UW-RF Home > University Communications Home > This Month's News Releases
University Communications
For more information contact mark.a.kinders@uwrf.edu or brenda.k.bredahl@uwrf.edu.
Prof Receives Regional Teaching Award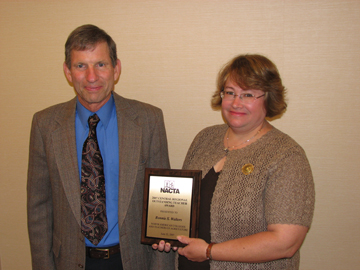 JUNE 29, 2007--University of Wisconsin-River Falls Professor Bonnie Walters, of the animal and food science department, received the 2007 North American Colleges and Teachers of Agriculture (NACTA) Regional Outstanding Teacher Award for the Central Region.
Walters, of Glenwood City, received the award at the 2007 NACTA Conference held at the University of Illinois at Urbana-Champaign June 20-22.
"This award is a testament to Bonnie's interest, commitment and abilities as a teacher," said Dale Gallenberg, dean of the UWRF College of Agriculture, Food and Environmental Sciences. "She models the principle of 'students first' and strives to give them challenging and meaningful experiences--both inside and outside the classroom. She recognizes the importance of both the academic and professional development of students at UWRF."
To qualify for the award, a NACTA member must have previously received the NACTA Teacher Fellow Award and hold a full-time appointment involving at least 25 percent teaching.
Walters was nominated by William Anderson, a professor in the UWRF plant and earth science department, and her nomination was reviewed by a committee of NACTA members. She received the award from 2006-07 NACTA President Allen Zimmerman (above), who is a professor of engineering technology and technical physics at The Ohio State University Agricultural Technical Institute in Wooster.
Selection criteria include the instructor's teaching philosophy; the nominee's promotion and enhancement of teaching at the university, state, regional and/or national level; evaluations by current students, alumni, administrative officers, and peers; factors such as availability to students, teaching innovations, and departmental/institutional activity, as well as a self-evaluation.
At the conference, Walters gave a presentation, "Assessment of a General Education Food Science Course," and her husband, Tim Buttles, an associate professor in the agricultural education department at UWRF, presented a poster, "Instant Feedback - Team Based Assessment."
In addition, NACTA organizers announced at the conference that the College of Agriculture, Food and Environmental Sciences will be the host site of the 2012 NACTA Conference.
NACTA provides postsecondary teachers of agriculture a forum for issues relating to the professional advancement of agricultural instruction and seeks to improve postsecondary teaching of agriculture through examination and discussion of courses and curricula, teaching and testing techniques, facilities and materials. NACTA encourages, promotes, and rewards instructional excellence in agriculture and the research supporting this instruction. For additional information on NACTA see http://www.nactateachers.org/.
-30-
Last updated: Thursday, 22-Apr-2010 16:08:23 Central Daylight Time