UW-RF Home > University Communications Home > This Month's News Releases
University Communications
For more information contact mark.a.kinders@uwrf.edu or brenda.k.bredahl@uwrf.edu.
SCVST Production 'Radio Gals' Opens July 10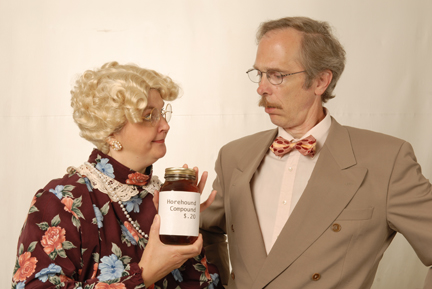 JUNE 29, 2007--St. Croix Valley Summer Theatre is set to open a production of the Los Angeles Ovation Award-winning play "Radio Gals" by Mike Craver and Mark Hardwick on July 10.
Set in the small town of Cedar Ridge, Ark., in the 1920s, this light-hearted musical comedy recounts the airwave antics of Hazel Hunt, a retired music teacher, and her 'all-girl' orchestra, the Hazelnuts, as they broadcast on "local" radio station WGAL.The story was inspired in part by the story of radio-wave jumper and evangelist Aimee Semple McPherson.
RIGHT: Hunt (played by Sarah Parks, River Falls, Wis.) tries to interest Federal Radio Inspector O.B. Abbott (Paul McMillan, Beldenville, Wis.) in some of her special 'horehound compound.'
Performances are set for July 10-12, 14, and 18-21 at 7:30 p.m. in the Davis Theatre of Kleinpell Fine Arts building, 420 Cascade Ave., at the University of Wisconsin - River Falls, with a matinee on July 15 at 1:30 p.m.
Tickets are $15 for adults, $13 for students and seniors, and $11 for children. A discount of $1 is applied to matinee performance tickets. Tickets may be purchased by phone at 715/425-3114, 10 a.m. - 3 p.m. weekdays or in person at the SCVST box office, Kleinpell Fine Arts building, UW-River Falls. The box office is also open one hour before every performance.
For more information about SCVST, call 715-425-3971, 800-228-5423 or email scvst@uwrf.edu. Information about the 2007 season and SCVST can also be found online at www.uwrf.edu/scvst.
-30-
Last updated: Thursday, 22-Apr-2010 16:08:22 Central Daylight Time