UW-RF Home > University Communications Home > This Month's News Releases
University Communications
For more information contact mark.a.kinders@uwrf.edu or brenda.k.bredahl@uwrf.edu.
SCV Summer Theatre Opens with Tender Comedy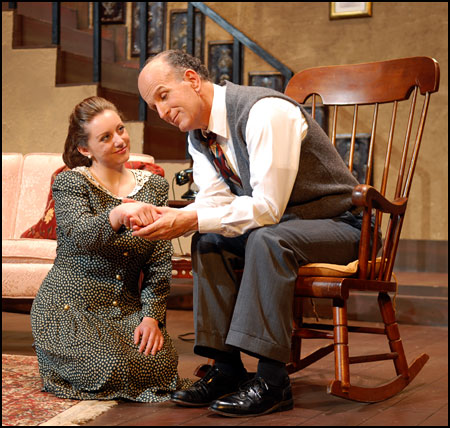 JUNE 22, 2007--An award-winning play by the author of "Driving Miss Daisy" makes its debut Tuesday, June 26 at the St. Croix Valley Summer Theatre in River Falls. "The Last Night of Ballyhoo," by Alfred Uhry, features Ambrosia J. Webb (Hudson, Wis.), Tom Monn (Woodbury, Minn.) (pictured), Janet Fogg (Hudson, Wis.) and Nancy Miller (River Falls, Wis.). The play takes place in 1939 Atlanta on the night "Gone With the Wind" premieres, but the Freitag family is consumed with thoughts of Ballyhoo, the annual lavish social event held by the city's exclusive Standard Club. This warm-hearted comedy is also laced with introspection about ethnic identity and prejudice that resonates with audiences everywhere. Also featured in the cast are Kristy Reid (Waconia, Minn.) (pictured), Greg Lund (Baldwin, Wis.) and Karl Gfall (New Richmond, Wis.). Performances are at 7:30 p.m. June 26-June 30, and 1:30 p.m. July 1, in the Blanche Davis Theatre, 420 Cascade Ave., on the campus of University of Wisconsin-River Falls. For ticket information, call 715-425-3114.
-30-
Last updated: Thursday, 22-Apr-2010 16:08:22 Central Daylight Time