UW-RF Home > University Communications Home > This Month's News Releases
University Communications
For more information contact mark.a.kinders@uwrf.edu or brenda.k.bredahl@uwrf.edu.
UWRF Students Intern with China Exploration Research Society
By Samantha Wenwoi
JUNE 15, 2007--With its stunning mountain vistas and rich ecological and cultural diversity, it's no wonder that a growing number of tourists are making the Yunnan Province of southwestern China a premier vacation destination.
This summer, six students from the University of Wisconsin-River Falls will be joining them.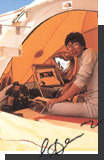 But it's not the idea of a leisurely trip that draws the intrepid group. The chance to roll up their sleeves and work with UWRF Distinguished Alumnus Wong How Man (photo, right, courtesy of CERS) and his China Exploration and Research Society (CERS) is the main attraction.
Due to a partnership between the University and CERS, Sandra Anderson, Nicholas Bisley, Katherine Kasnia, Jason Kittel, Andrew Moore and Karen Pedersen, a biology and chemistry major from Stillwater, Minn., are participating in a unique internship program that is being offered for the first time this summer. Under the guidance of UWRF art Professor Lynn Jermal, the group will be working on art and eco-tourism projects designed to help sustain the cultural and natural traditions of Yunnan Province. Through their work the students will help to further the CERS mission of conserving and preserving a China that is becoming increasingly susceptible to Western influence.
Chancellor Don Betz emphasized the significance of UWRF's newest international affiliation.
"This creative program offers unprecedented opportunities for our students and faculty in a region of the world that increases in importance each year," Betz said. "This work advances UWRF's pursuit of at least two of its strategic goals: employing sustainability principles and advancing global literacy and global engagement."
The group will be staying with Wong, a 1976 graduate of UWRF and the 2002 recipeint of its Distinguished Alumnus Award, and his staff at the CERS Zhongdian Center in Yunnan Province. Located about six miles outside of the tourist city of Shangri-La, the multi-purpose Tibetan-style wooden building is the launching pad for CERS' numerous conservation projects and research expeditions. It contains dormitory space and an activity room.
The nonprofit organization that Wong founded in 1986 has grown into a world-renowned operation. Among its ventures has been the establishment of a non-commercial kennel meant to preserve and protect the vanishing Tibetan mastiff dog breed and the restoration of the only Tibetan nunnery in Yunnan Province.
The official dates for the pilot internship program are July 21- August 19. However, two of the students will be leaving this month to get a head start on their internship experiences. Bisley and Kasnia are departing for China on June 19 to begin work in the Napahai Black-Necked Crane Nature Reserve. Located a stone's throw from the CERS Zhongdian Center, the reserve is the main wintering spot in the world for these endangered birds.
Bisley, a senior conservation major from Gresham, Wis ., and Kasnia, a sophomore conservation major from Brookfield, Wis ., plan on putting their major coursework to use by creating an environmentally-friendly recreational trail that will allow tourists to experience the beauty and splendor of the wetland. The path will also benefit the communities surrounding the reserve as well, providing them with a stream of tourist revenue.
It is the idea of spending time in the world's most populous country performing meaningful work that draws Bisley. "What appealed to me the most was spending a couple of months in China, working on sustainable rural development. I feel this internship will help me by providing a valuable insight of China and developing nations in general."
Kasnia is looking forward to the impending internship with an air of enthusiasm. "Overall, I'm really excited about the field, work and cultural experience. I think it will also show my dedication to my major and my passion for the environment."
Kittel, a sophomore art education major from Star Prairie, Wis., and Moore, a senior art education major from Stillwater, Minn., will be turning the sixty-family Tibetan enclave of Gongbing into a classroom. The village is located within walking distance of the CERS Zhongdian Center. For their internship, the two students are going to receive training in Gongbing's traditional art forms. Kittel and Moore will then utilize their art education experience as they lead the youth of Gongbing in documenting the village's time-honored artistic practices by use of electronic recording equipment. By engaging the younger members, Kittel and Moore hope to inspire them to keep the traditions alive. Helping the village to develop a forum in which to market its arts and crafts is another internship goal.
The opportunity to study traditional Tibetan art forms was too advantageous for Moore to pass up. "This will be a multicultural service learning experience that will be incredibly valuable to me as an art teacher. Not only will I be working directly with Tibetan artisans and learning about their craft but the concept of sustainable artistic practices in a global setting is one with direct and valuable implications in our own society."
In addition to assisting Kittel and Moore in their endeavors, Anderson, a graduate student from Hayward, Wis., will also don another hat: that of unofficial group ambassador. The art teacher from Lac Courte Oreilles Ojibwe School plans on coordinating an artistic exchange with the villagers of Gongbing. Anderson plans to trade Native American dreamcatchers created by Lac Courte Oreilles students for authentic Gongbing arts and crafts.
In bringing the Tibetan art back to Hayward to share with her pupils, Anderson hopes to act as a bridge between two indigenous cultures. "Mostly I'm just interested in learning about their ways and their culture. I think that I can teach a lot of things to my students. I can teach them geography about the area, I can teach a little bit about different cultures--how their culture is similar to the Native American culture and how it's different--and show pictures or slides to my students so they can get a feeling for how people live in China."
That the faction consists of three men and three women, with an equal division of art and science majors, is not a detail that has escaped the attention of Jermal. "It's a little pilot that's perfectly balanced. The students are just charming; they're wonderful. They're bright, very capable and willing to do anything."
Compared to the student interns, Jermal is a veteran when it comes to Chinese travel. She was part of a faculty delegation that visited Yunnan Province during the summer of 2005 to lay the groundwork for the UWRF/CERS partnership.
It is this sustained dedication to the CERS philosophy that will guide Jermal and the students in their work this summer. "I feel like it's important for Westerners being involved to try and maintain this rich variety of cultures," said Jermal. "We can merge our two ways of looking at things. That would be my ideal, that we start some good projects that offer solutions."
Betz stressed the value of the global enrichment offered by the new internship program.
"Their learning opportunities will be unique and distinctive and sharpen their skills from several perspectives," he said. "I am pleased and proud of this UW-River Falls connection with CERS."
-30-
Last updated: Thursday, 22-Apr-2010 16:08:22 Central Daylight Time