UW-RF Home > University Communications Home > This Month's News Releases
University Communications
For more information contact mark.a.kinders@uwrf.edu or brenda.k.bredahl@uwrf.edu.
SCVST 2007 Season Entourage Spans Two States
By Lisa Stratton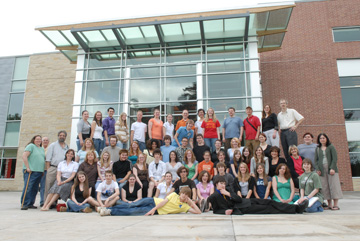 JUNE 15, 2007--Adults chattered, teenagers high-fived, and strangers soon to be united by the stage eyed each other with friendly smiles. An air of excitement flowed through the Syse Theatre at the University of Wisconsin-River Falls on June 5 as all of the nearly 70 members of the 2007 St. Croix Valley Summer Theatre (SCVST) company met for the first time.
One of the oldest theatre troupes in the Upper Midwest, SCVST began in 1966, and has been providing quality summer entertainment ever since to those in the St. Croix Valley region and beyond.
"We have an extraordinary number of audience members who have attended virtually every summer theatre play since we began way back in 1966," says Michael Norman, managing director. "I am constantly amazed at the love and loyalty audiences have for SCVST."
The company is hard at work to bring three celebrated shows to the Blanche Davis Theatre at the UWRF:
"The Last Night of Ballyhoo" by Alfred Urhy, author of "Driving Miss Daisy," opens the season with shows from June 26-30. A special matinee performance will be held on July 1.
Hilarious musical comedy "Radio Gals" tells the story of local radio broadcaster Hazel Hunt and her all-girl orchestra. Performances are July 10-12, 14, and 18-21, with a matinee at on July 15.
The incredibly popular Disney favorite "High School Musical" ends the 2007 season on a high-energy note. Shows begin on July 31, and continue Aug. 1-5 and 8-11. A matinee showing will be held Aug. 5.
"Summer stock is always a 'pressure cooker' environment because it means getting several shows rehearsed, built and performed in just a very few weeks," says Norman. "If young theatre professionals can survive this, they can survive nearly anything--audiences are amazed at the wonderful shows the actors and crew bring them each year."
Regular performances begin at 7:30 p.m. with matinees starting at 1:30 p.m. Tickets are available for walk-up sales at the SCVST box office on weekdays from 10 a.m. - 3 p.m., Kleinpell Fine Arts building, UW-River Fall, or by phone at 715/425-3114 or toll-free 800/228-5423. Season tickets are available.
For more information on St. Croix Valley Summer Theatre, contact Melanie Nelson at 651-214-2281.
Members of the 2007 SCVST company are: First row, L to R: Evan Miller (River Falls, Wis.), Jeremy Richter (Dresser, Wis.). Second row L to R: Carolyn Strauss (Minneapolis, Minn.), Jon Stiff (St. Francis, Minn.), Amanda Piccirillo (Aurora, Ohio), Helen Schutkoske (Hudson, Wis.), Nico Fassino (Hudson, Wis.), Willa Townsend, Max Malanaphy (Hudson, Wis.), Lexi Bruns (River Falls, Wis.), Katie Berndt (River Falls, Wis.), Kristy Reid (Waconia, Minn.), Amanda Baker (Hudson, Wis.). Third row, L to R: Denise Baker (Hudson, Wis.), Janet Fogg (Hudson, Wis.), Heather Nordby (Woodbury, Minn.), Colin Jarrett, Maggie Hall (River Falls, Wis.), Luke Johnson (Stillwater, Minn.), Holly Germain (Somerset, Wis.), Gina Hanzlik (Somerset, Wis.), Kate Keller (Hudson, Wis.), Amanda Chial (Stillwater, Minn.), Brooke McMillan (Beldenville, Wis.), Brittany McMillan (Beldenville, Wis.), Anna Parks, Rosy Kirk, Sarah Parks, Lee McMillan (Beldenville, Wis.). Fourth row, L to R: Deb Murphy (St. Paul, Minn.), Michael Norman (River Falls, Wis.), Kenneth Hill (Ripon, Wis.), Nancy Miller (River Falls, Wis.), Alex Clark (Woodbury, Minn.), Chelsea Gartner , Bre Graham (Woodbury, Minn.), Colin Hutchins (Baldwin, Wis.), Greg Lund (Woodville, Wis.), Karl Gfall (New Richmond, Wis.), Ambrosia J. Webb (Hudson, Wis.), Sylvia Wadzinski (Phillips, Wis.), Holly Conwell (St. Michael, Minn.). Fifth row, L to R: Ella Pruitt, Lisa Rosenberg (Oakdale, Minn.), Justin Cooke (Cottage Grove, Minn.), Anna Marie Sellman (Lakeland, Minn.), Steve Kath (St. Paul, Minn.), Erin Morris (Bloomington, Minn.), Alicia Hermsen (Hudson, Wis.), Andy Steffen (New Richmond, Wis.), Erik Quam, Jeanne Voigt (Minneapolis, Minn.), Paige Pribonic (Hudson, Wis.), Keith Carl (New Richmond, Wis.), Tom Monn (Woodbury, Minn.), Melanie Nelson (Dresser, Wis.), Paul McMillan (Beldenville, Wis.)
-30-
Last updated: Thursday, 22-Apr-2010 16:08:21 Central Daylight Time