UW-RF Home > University Communications Home > This Month's News Releases
University Communications
For more information contact mark.a.kinders@uwrf.edu or brenda.k.bredahl@uwrf.edu.
KC Chiefs Make 17th Return to UWRF for Summer Training Camp
By Lisa Stratton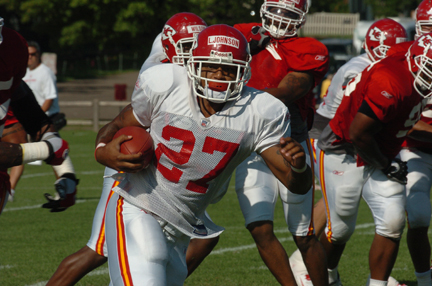 JUNE 8, 2007--The end is in sight for fans of the Kansas City Chiefs football team who have eagerly awaited seeing their favorite players and coaches in person at summer training camp at the University of Wisconsin-River Falls.
The Kansas City Chiefs football team returns to UWRF on July 26 for its 2007 Summer Training Camp. This year, for the first time all the action will be captured by HBO's "Hard Knocks" for the duration of camp. The first segment will be broadcast Aug. 8.
The Chiefs have practiced at UWRF for the past 16 summers, and have exercised a one-year option in the relationship with the University for the 2007 camp. The team takes to the field for its practice July 27 from 4 to 5:15 p.m.
Head Coach Herm Edwards will be returning for his second season with the Chiefs. Former coach of the New York Jets, Edwards was selected to coach the Chiefs last year after his considerable experience with the team: he formerly was both a scout and a defensive backs coach with the Chiefs in the early 1990s.
Along with Edwards, fans will recognize several familiar Chiefs' faces, including running back Larry Johnson, who was second in the NFL in 2006 with 1,789 rushing yards. Also returning are tight end Tony Gonzales and last year's first-round draft pick and defensive end Tamba Hali. Linebacker Donnie Edwards rejoins the Chiefs and along with cornerbacks Patrick Surtain and Ty Law will be defensive leaders.
Fans will get an early look at who will be at the all-important quarterback position. Will it be second-year man Brodie Croyle or veteran Damon Huard? Huard played when Trent Green was hurt last year. Green was traded to the Miami Dolphins on June 6 for a fifth-round draft choice.
Making his first trip to Chiefs training camp is 2007 first-round draft pick, third-team All-American and first-team All-SEC wide receiver Dwayne Bowe, from LSU. Other draft picks coming to River Falls include Turk McBride, defensive end from Tennessee; Tank Tyler, defensive tackle from North Carolina State, Kolby Smith, running back from Louisville; Justin Medlock, kicker from UCLA; Herbert Taylor, offensive tackle from Texas Christian; and Michael Allan, tight end from Whitworth.
A typical day for the team includes an early breakfast and training room session, morning practice, lunch, afternoon practice, dinner, offensive/defensive and team meetings, treatment, snack, and lights out at 11 p.m.
Practices, located at the Ramer Field Sports Complex, are free and open to the public, except for the Chiefs/Vikings practice on Aug. 4 and Family Fun Night on Aug. 8; admission is charged for those events. Practices are generally held from 9 to 10:30 a.m. and 3:30 to 5 p.m. daily.
Adding to the fun of daily practices are several special events. The annual Punt, Pass & Kick competition, sponsored by FedEx Ground and FedEx Home Delivery, will be held on July 28. The contest is for boys and girls age 8-13, and registration is free. New this year are two girls-only divisions for ages 8-10 and 11-13. Registration begins at 11 a.m. near the Information Gazebo and the competition starts at noon. Registration is also available on-line at: www.uwrf.edu/chiefs/ppkform.htm . All participants will receive a ribbon, and the top three in each category will be awarded a trophy. Prizes will be given out after the event. The trophy winners will also be recognized after the Family Fun Night practice on Aug. 8.
Other favorites for all ages are Kids' and Seniors' Days. Kids' Days are scheduled for July 31 and Aug. 7. Practices for both days are scheduled to begin at 9 a.m. and will end at 10:30 a.m. Seniors' Day is set for Aug. 1, with practice also from 9 to 10:30 a.m. Both events are free. Call 715-425-3771 to register and for more information.
For the first time, practice sessions with the Vikings will be held at both teams' camp locations. On Aug. 3, the Chiefs travel to MSU-Mankato to practice with the Vikings and the two teams will practice at the Ramer Field Sports Complex on Aug. 4. Practice at MSU-Mankato is tentatively set for 6:30 to 8:30 p.m. The teams will practice together in River Falls from 7 to 8:30 p.m. Admission price for the practice in River Falls is $10 for adults; $5 for age 12-17 and those under 12 are admitted free.
Near the completion of Chiefs camp, Family Fun Night is an event for the whole household and will be held at Ramer Field. Sponsored by Viking Coca Cola of River Falls, the event on Aug. 8 will feature food, music, games, and autograph sessions with players and coaches, the Chiefs Experience and practice from 7 to 8:30 p.m. The gates will officially open at 4 p.m. Admission is $7 for adults and free to children under 18.
At 5:20 p.m. a team of skydivers from Indianhead Sport Parachute Club will land on the field, after which UWRF Chancellor Don Betz, Chiefs Coach Herm Edwards, and Chiefs CEO Carl Peterson will address the crowd. Wisconsin Gov. Jim Doyle has also been invited. Winners of the Punt, Pass & Kick competition will be recognized after practice, followed by a fireworks display by Rolf Halverson Fireworks.
Chiefs will break camp on Aug. 15 and return to Kansas City.
For information on lodging and activities in the River Falls and the St. Croix River Valley, visit www.rfcity.org and www.saintcroixriver.com. Practice dates and times are subject to change. For information updates, please visit www.uwrf.edu/chiefs or call 800-4KCC-KCC.
-30-
Last updated: Thursday, 22-Apr-2010 16:08:21 Central Daylight Time