UW-RF Home > University Communications Home > This Month's News Releases
University Communications
For more information contact mark.a.kinders@uwrf.edu or brenda.k.bredahl@uwrf.edu.
History Professor Receives National Fellowship
By Meghan Dusek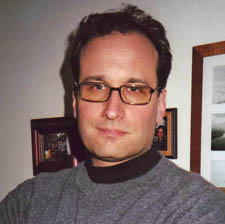 MAY 25, 2007--Common misconceptions of history bring to mind parched mummies, dank archives, and long-winded lectures about dates and events repeated since elementary school.
UW-River Falls history professor Roark Atkinson used to have this view of history himself and he's set out to change that perception.
"I strongly disliked history in high school, since we had to memorize so many meaningless dates and facts," Atkinson said. "It wasn't until college--when I had a chance to do research myself--that I became aware that much of the work historians do is very creative. It's this creativity that makes history one of the most exciting fields there is. I think it's one of the ironies of history: people expect it to be about stuff we already know, but it's also about re-discovery, and sometimes learning something entirely new about the past that places our own lives in a new context."
Atkinson is excited to share his perspective on history with others and will employ his methods of "re-discovery" researching in New York City as a result of receiving the highly competitive Bernard and Irene Schwartz Postdoctoral Fellowship. The fellowship is funded by private philanthropists, and is hosted and cosponsored by the New York Historical Society and the New School for Social Research.
"I had to pinch myself when I heard the news," Atkinson said. "It's a very great honor."
The Bernard and Irene Schwartz Postdoctoral Fellowship is designed to help young scholars get their first books published so that their work can be received by a larger audience--an important goal of the academic profession.
Atkinson's forthcoming book, "Invisible Plantations: Religious Violence, Occult Healing, and Witchcraft in the Scottish Atlantic World, 1590-1820," will be published by the Johns Hopkins University Press in 2008. The book explores religious beliefs and violence amongst Scots and Scots-Irish settlers in the American South.
The road to creating a book is long, expensive and time-consuming yet exciting, says Atkinson. "More than half the documents I rummage through are unusable," Atkinson said. "I live to discover those few documents that shed new light on the past--to a historian it's like panning for gold!"
Atkinson said persistence is key in creating a historical book of this magnitude and finding the funding to do so. "In order to pay for this project, I applied to hundreds of fellowships and grants. For every grant I received, I probably got turned down by 20 or 30 others. Persistence is the name of the game."
The fellowship will allow Atkinson to focus almost exclusively on the book over the next year to have it ready for publication by August 2008. The stipend will help cover the costs of living in New York, where Atkinson will have access to some the nation's best research libraries. He will also be obligated to teach two courses at the New School, where scholars like Thorstein Veblen, John Dewey and Claude Levi-Strauss once taught.
Atkinson plans to bring his research back to UWRF--literally. "Provided I can obtain additional financial support, I hope to bring my research material home and start an archive on campus for students and researchers to use, perhaps in the Chalmer Davee Library," Atkinson said. "It would be fantastic to start a unique collection of material on witchcraft, popular religion and Southern culture right here in Wisconsin."
Atkinson is currently an assistant professor of history at UWRF. He received his Ph.D. from Indiana University in 2005. "Sometimes people ask me: Why don't we just teach the old stuff?" said Atkinson." It's only through this kind of book project or through scholarly journal articles that we can start to form a newer and larger grasp of history--one that's meaningful to our generation."
-30-
Last updated: Thursday, 22-Apr-2010 16:08:20 Central Daylight Time