UW-RF Home > University Communications Home > This Month's News Releases
University Communications
For more information contact mark.a.kinders@uwrf.edu or brenda.k.bredahl@uwrf.edu.
Distinguished Alumnus Named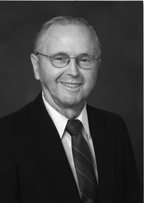 MAY 4, 2007--The University of Wisconsin - River Falls Foundation has named John Clemons, M.D., as the 2007 Distinguished Alumnus. The award is given each year to recognize university alumni for outstanding service and leadership in their profession and their community.
"I was surprised and humbled. You always feel like there are more people who are deserving," says Clemons.
A 1957 graduate of UWRF with a degree in agricultural education, Clemons has gone on to a celebrated career in the field of medicine.
"My senior year of college I had the opportunity to spend time in the operating room of my hometown physician. After that, I knew I wanted to become a physician and a surgeon," says Clemons. "My professors and advisor became very enthused, and I received a lot of encouragement from my River Falls teachers."
Nancy Devine, executive director of University Advancement, noted that the Distinguished Alumnus Award is the highest honor that can be presented to a UWRF graduate. "We are extremely proud of Dr. Clemons' outstanding achievements and the UWRF education that built a foundation for his research and service," she said.
Clemons received his medical degree from the University of Wisconsin Medical School in 1962, after which he interned at Gundersen Lutheran Hospital in La Crosse, Wis. for a year. He continued to work for Gundersen Lutheran as a surgical resident until 1965, when he accepted a residency in otolaryngology, a field of medicine which studies the anatomy, function, and diseases of the ear, nose and throat, and a residency in head and neck surgery at the University of Iowa.
In 1969, Clemons established the first cleft lip and palate clinic in Western Wisconsin in association with the Gundersen Clinic. The clinic's team of workers includes professionals from all aspects of health, including plastic surgeons, dental workers, dieticians, and social workers.
Clemons also began an outreach clinic in Winona, Minn., in order to better serve his patients who were unable to travel to La Crosse. Clemons' idea became a trend for other departments at Gundersen Lutheran, and today more than 135 outreach clinics in 44 locations exist.
"Attending UW-River Falls was an excellent background in the practice of medicine. It helped me relate well to my rural patients," says Clemons. "I remember one patient I had was sort of grumpy and reluctant until I started talking farming, which allowed me to establish a rapport with him. I had no problems with him after that."
In 1970, Clemons instituted a multi-specialty head and neck tumor clinic as part of a national study in the treatment of head and neck cancer, in connection with the University of Wisconsin - Madison. The study was one of the earliest programs to discourage the use of tobacco and alcohol due to their connection with cancer.
The University of Iowa invited Clemons to join their staff to teach residents at the university's clinic in 1986, where he taught for a short time. Clemons was also appointed to be a clinical professor with the UW-Madison after creating a residency for two UW students at the Gundersen Clinic.
A surgical technique by Clemons used in the reattachment of severed ears was presented to the Academy of Facial Plastic and Reconstructive Surgery, and is now known as the "Clemons Technique." The method has also been applied to assist in reattaching other body parts, such as the nose.
Chancellor Don Betz extolled Clemons' virtues. "John's pioneering medical work places him in rare company," says Betz. "His life-long devotion to his patients and community exhibit a full spectrum of attributes worthy of our acknowledgment. His attachment to UW-River Falls encourages all of us to follow his example, and his life of service is a testimony to the values we champion here at UWRF."
Dr. W. Bradford Martin, a colleague for 20 years, nominated Clemons. Martin describes Clemons as "a most accomplished and skilled physician, dedicated father and husband, and a very proud graduate of UW-River Falls."
Clemons holds professional membership in the American Academy of Otolaryngology and Head and Neck Surgery, the American Cleft Palate Society, the American Medical Association, the Wisconsin State Medical Society, the Wisconsin Society of Otolaryngology, and served as president of the Tri-State Society of Otolaryngology 1976-77.
Now retired, Clemons continues his education by taking classes at UW-La Crosse. A skilled artisan, Clemons carves and paints intricate wooden songbirds, and writes for medical literature. His autobiography, "Tending My Flock," is currently in the process of being published.
Clemons will be recognized for his award at spring commencement on May 12. For more information, please contact UWRF Foundation toll-free at 1-877-258-6647.
-30-
Last updated: Thursday, 22-Apr-2010 16:08:18 Central Daylight Time