UW-RF Home > University Communications Home > This Month's News Releases
University Communications
For more information contact mark.a.kinders@uwrf.edu or brenda.k.bredahl@uwrf.edu.
Distinguished Teacher Named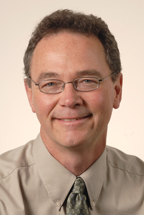 MAY 4, 2007--James Madsen, professor of physics and chair of the University of Wisconsin-River Falls physics department, has received the 2007 Distinguished Teacher Award, the highest honor bestowed upon faculty.
Selection for the Distinguished Teacher Award is based on nominations by graduating seniors and recent alumni.
"Dr. Madsen is a superb teacher," said a student nominator. "He can take a subject relatively unknown to a student, such as a science senior capstone course, and make it interesting. He has helped in an astrophysics project at the South Pole and he brings that outside information right into the classroom."
Madsen holds a B.S. with double majors in applied math, engineering and physics from UW-Madison and a Ph.D. in applied physics from the Colorado School of Mines.
He held a number of positions prior to his arrival at UWRF in 1989. He was a postdoctoral research assistant in physics and polymer science at the University of Massachusetts-Amherst from 1987 to 1989, and an IBM graduate fellow with the physics department of Colorado School of Mines from 1985 to1986. He has also been a visiting professor at UW-Madison from 1999 to 2000.
While at UWRF, Madsen has been involved with the IceCube project with UW-Madison, which involves neutrino astrophysics research at the South Pole. Several students have worked in Antarctica with Madsen on the project involving detector simulation of ice-based neutrino telescopes. He has given numerous presentations on the IceCube project throughout the world.
"Jim exemplifies the characteristics we associate with an exceptional educator, namely, intelligence, unbounded curiosity, persistence, accomplishment, and a life-long commitment to helping students learn," says UWRF Chancellor Don Betz. "Jim lives all of these attributes and inspires others as much by his demeanor as he does by his accomplishments. He has earned the respect of colleagues and students alike. The UWRF faculty is well represented this year with Jim's selection."
Madsen is a member of the Wisconsin Association of Physics Teachers and the American Physical Society. He currently serves as chair of the Faculty Senate Salary Committee, back-up chair for the UWRF Sustainability Work Group and serves on the College of Arts and Sciences Dean's Executive Committee, and the Faculty Senate Termination Council.
In addition to his work as a teacher, Madsen has received several National Science Foundation grants for his research and had his work published in the International Journal of Thermophysics, Journal of Geophysics, Nature, Astroparticle Physics, the Journal of Low Temperature Physics, and other scholarly publications.
He has been involved in several community service initiatives, including serving as a host family for international students, UWRF community classroom presentations, and talks at Rotary International and numerous public and private schools in the St. Croix Valley. He has been a past judge for the West Central Wisconsin Regional Inventor's Fair for youth and science and math fairs in the area. He also assisted the Baton Rouge Museum of Natural History with an IceCube exhibit.
In 1997 he helped establish the Western Wisconsin Polymer Physics Laboratory on campus with a UWRF chemistry professor, which support the research of four students each year who work on projects for the local plastics industry.
-30-
Last updated: Thursday, 22-Apr-2010 16:08:18 Central Daylight Time