UW-RF Home > University Communications Home > This Month's News Releases
University Communications
For more information contact mark.a.kinders@uwrf.edu or brenda.k.bredahl@uwrf.edu.
Commencement Set for May 12
MAY 4, 2007--The University of Wisconsin-River Falls will hold two commencement ceremonies on Saturday, May 12 in the Robert P. Knowles Physical Education and Recreation Center.
Graduates of the College of Agriculture, Food, and Environmental Sciences College of Business and Economics and College of Graduate Studies are scheduled at 9:30 a.m. The 2 p.m. ceremony will include the College of Arts and Sciences and the College of Education and Professional Studies.
Student speakers for the ceremonies will be Dana Marie Laufenberg and Nikki K. Peters.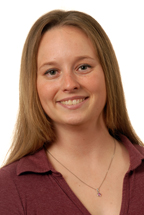 Laufenberg, who hails from Blanchardville, Wis., is receiving a degree from the College of Agriculture, Food and Environmental Sciences (CAFES). Throughout her UWRF career she has held various leadership positions within CAFES including president and vice president of the CAFES Student Advisory Council. She has also been an active member of the UWRF Rodeo Club and was the Rodeo Club's queen in 2003. She is a past recipient of a scholarship from the Western Rural Opportunities Foundation.
Laufenberg's speech, "Journeying Through Life," will be given at the 9:30 a.m. ceremony.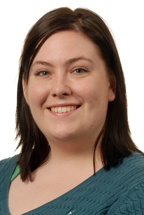 Peters, from Clear Lake, Wis., is receiving a degree in speech communication with a minor in agricultural studies. She has been involved in the Agricultural Education Society, National Residence Hall Honorary, Student Organizations Committee, Smiles 4 Kids and Relay For Life.
While at UWRF, Peters has also served her fellow students as a resident assistant and hall manager. A recipient of the 2007 Chancellor's Award, the highest non-academic award bestowed to students, Peters plans to pursue a master's degree in College Student Personnel at Bowling Green State University.
Peterson will deliver her speech, "Lessons From the Textbook of Life," at the 2 p.m. ceremony.
James Madsen will be recognized at the ceremony as the 2007 Distinguished Teacher. Madsen is a professor of physics and chair of the UWRF physics department. Madsen holds a B.S. with a double major in applied math, engineering and physics from UW-Madison and a Ph.D. in applied physics from the Colorado School of Mines.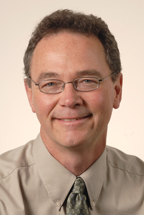 While at UWRF, Madsen has been involved with the IceCube project, which involves neutrino astrophysics research at the South Pole. He has received several National Science Foundation grants for his research and his work has been published in many scientific journals. In 1997, Madsen helped to bring about the Western Wisconsin Polymer Physics Laboratory at UWRF, which supports the research of students for the local plastics industry.
The 2007 Distinguished Alumni Award recipient Dr. John E. Clemons will also be recognized at the ceremony.
Clemons, a native of Chippewa Falls, Wis., graduated from UWRF in 1957 with a bachelor's degree in agricultural education and went on to earn a doctor of medicine degree in 1962 from UW-Madison.
During his 27-year practice at Gundersen Lutheran Medical Center in La Crosse, Wis., Clemons founded the otolaryngology department, established a treatment center for head and neck cancers and created the first cleft lip and palate clinic in western Wisconsin.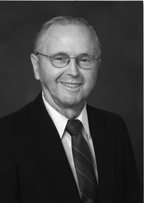 Dr. Clemons was given national and international recognition for introducing an improved procedure to reattach a severed ear that has also been applied to reattaching other body parts. The Academy of Facial Plastic and Reconstructive Surgery now calls it the "Clemons Technique."
In order to better serve patients unable to travel to La Crosse, Clemons began an outreach clinic in Winona, Minn. The practice became a model for other departments at Gundersen Lutheran and today more than 135 outreach clinics operate at 44 locations outside the city.
For more information on spring commencement at UWRF visit http://www.uwrf.edu/commencement/ .
-30-
Last updated: Thursday, 22-Apr-2010 16:08:17 Central Daylight Time