UW-RF Home > University Communications Home > This Month's News Releases
University Communications
For more information contact mark.a.kinders@uwrf.edu or brenda.k.bredahl@uwrf.edu.
Students Learn About Agriculture at Farm Day
By Kendra Knutson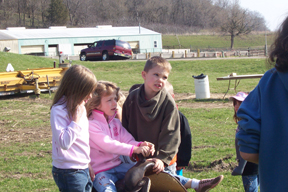 APRIL 30, 2007--Chocolate milk does not come from brown cows--that is one of the facts that more than 650 elementary school students from Wisconsin and Minnesota learned about the agriculture industry on April 20 at the University of Wisconsin-River Falls annual "Farm Day."
Hosted by the university's Mann Valley Farm 2, the Farm Day event is sponsored by Alpha Zeta, an honorary agricultural fraternity, in order to educate kindergarten through third grade elementary students on different aspects of agriculture. Any UWRF College of Agriculture, Food, and Environmental Science organization can participate by setting up and staffing an educational booth at the farm. This year's participating organizations included: Dairy Club, Poultry Club, Crops and Soils Club, Rodeo Club, and the Agriculture Education Society.
Students from a wide array of schools arrived in groups for two-hour teaching segments at the farm. Each group rotated to a different educational booth or activity every 15 minutes. The topics this year ranged from sheep shearing to crops and soils, to where milk comes from and rodeo events. The day began at 9 a.m. and concluded at 2:30 p.m.
Matthew Hines, a senior in agricultural studies from Waseca, Minn., was in charge of organizing the Dairy Club's booth, "Milk from the Cow to You!" Student volunteers from the club managed it throughout the day. Hines also searched to find donations and sources for 650 cartons of milk, along with coloring books for the kids. "This is a very beneficial event because it exposes young children to different aspects of agriculture who may not otherwise experience it in their home area," said Hines, "Many students come from the Twin Cities and have never been on a farm, this proves to be a real learning experience for them."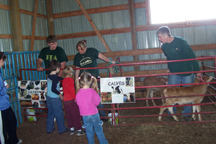 Hines' favorite part of the day was seeing the children's reactions, especially from those who had never experienced agriculture firsthand. "It makes you appreciate how you were raised with an agriculture background, and realize that not everyone was as fortunate as you," said Hines.
Farm Day began in the early 1990s by the UWRF Dairy Club but was called "Dairy Jubilee." The event was held on the main campus near the old student center. Dairy Jubilee was focused primarily on the dairy industry and topics related to dairy. Over the years the educational event started to gain more categories from the entire agricultural field. A few years ago Alpha Zeta took on sponsorship and became the primary organizer of what is now dubbed "Farm Day."
For more information on next year's Farm Day, contact the College of Agriculture, Food and Environmental Sciences at 715-425-3841.
-30-
Last updated: Thursday, 22-Apr-2010 16:08:16 Central Daylight Time