UW-RF Home > University Communications Home > This Month's News Releases
University Communications
For more information contact mark.a.kinders@uwrf.edu or brenda.k.bredahl@uwrf.edu.
Students Explore Belize on Spring Break
By Brian Hogenson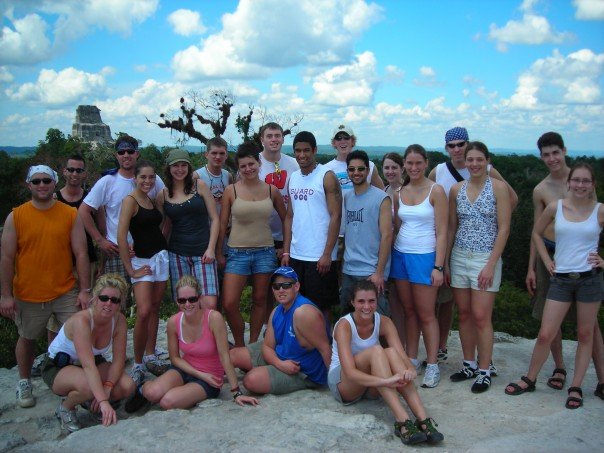 APRIL 30, 2007--During spring break, University of Wisconsin-River Falls anthropology Professor Ed Robins and a group of eager students took part in an annual study tour, called " Rainforest and Reef: The Conservation of Cultural and Biological Diversity," to explore the small Central American country of Belize,
Nestled between Mexico, Guatemala and the Caribbean Sea, Belize provided the opportunity for students to experience the rainforest, the world's second largest cave system, ancient Mayan temples, the world's second largest barrier reef and a marine reserve swarming with sharks, rays and manatees while basking in a diverse mix of cultural heritage including indigenous, African and European traditions.
"The trip as a whole was an amazing experience for me," said UWRF student Ryan Fischer. "I learned a lot and had a great time exploring and experiencing everything Belize had to offer."
While staying at a jungle lodge for the first six days of the tour before departing to Ambergris Caye for the last five days, the students had an opportunity to visit a Roman Catholic school in Cristo Rey Village. The students arrived with a collection of books, games and soccer balls to give to the schoolchildren--something that has become a tradition for the study tour since it began several years ago.
The children of Cristo Rey Village left a lasting impression on the students, who were awed with their demeanor and academic achievement.
"I thought that the trip to the school was very rewarding," said UWRF student Ashley Moseng. "Seeing how they work and how the school is run was an amazing experience for me. The children were all very cute and respectful. I feel good that we were able to help them."
UWRF student Aaron Andrighetti noted the academic achievement of the students, saying that he went into a class equivalent to what in the United States would be second grade and saw that the students were already doing percentages and more complicated math than would be expected.
"I was very impressed with the high level of academics they were teaching," Andrighetti said. "They also had a fairly good grasp of English."
While English is the official language of the former British colony, many Belizeans speak Spanish, especially in their homes and among family members. Because of this, there is an emphasis at the Cristo Rey R.C. School to promote the speaking of English in the classroom setting.
Cristo Rey R.C. School has roughly 160 student,s and class sizes ranging from 16 to 20 students. The children wear uniforms consisting of a button-up shirt and pants for boys, while the girls typically wear a skirt two inches below their knees. Jewelry is limited to one chain for boys and one earring in each ear for girls.
"In general I thought the people of Belize were very laid back," Fischer said, which corresponds with the "go slow" motto of Caye Caulker, another stop on the tour.
For more information on the Belize study tour, visit http://www.uwrf.edu/belizetour/welcome.htm .
Photo: L to R: Back Row: Aaron Andrighetti, Tim Lundin, Michael Keown, Matt Shere, Brian Mogen, Stephanie Kipka, Mark Altendorfer, Andy McLaughlin. Middle Row: Brian Hogenson, Ashley Moseng, Alecia Plaetz, Sarah Volz, Clint Robins, Ryan Fischer, Andrea Higgins, Elizabeth Barnett, Angie Miller. Front: Jill Morley, Merrily Calkins, Timmy Gehrman, Breanne Fackler.
-30-
Last updated: Thursday, 22-Apr-2010 16:08:16 Central Daylight Time