UW-RF Home > University Communications Home > This Month's News Releases
University Communications
For more information contact mark.a.kinders@uwrf.edu or brenda.k.bredahl@uwrf.edu.
Campus Responds to VA Tech Tragedy
By Lisa Stratton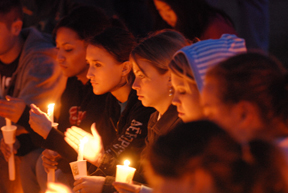 APRIL 30, 2007--In the aftermath of the tragedy at Virginia Tech, the University of Wisconsin-River Falls campus and community continues to respond through both emotional support and action.
More than 80 students, faculty, and staff gathered at the University Center the evening after the shooting for a candlelight vigil. Gregg Heinselman, associate vice chancellor for student affairs and Rich Wallace, assistant professor of sociology and a Virginia Tech alumnus, addressed those gathered. A moment of silence was held after all candles were lit.
"The healing process needs an outlet to channel the emotions and feelings around this type of event," says Heinselman. "The University Center was designed to serve as the heart of our campus, and it seemed appropriate to support this type of healing activity."
UWRF staff member Deb Toftness attended the vigil. "Everyone was quiet and somber," says Toftness. "I was having a hard time and needed to be with other people who were feeling the same way. It was my way of emotionally dealing with the tragedy. The events bothered me because I have a daughter in college."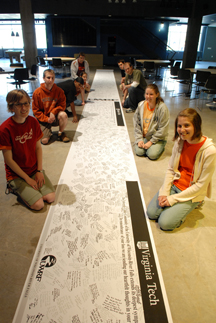 A banner was also placed in the University Center for anyone wishing to send a message to Virginia Tech. Students and staff wrote messages such as "All we can do now is pray for you...please be strong," "May God keep you safe," and "May your hearts and souls heal from these terrible scars and move on to better days."
Rita Zawislak-Brandt, a graphic artist and media specialist for UWRF, says she was asked by Heinselman to create the banner.
"We've had to keep connecting it to allow space for all those who wanted to send their condolences," said Zawislak-Brandt. The banner expanded from one poster-sized sheet to one that was able to contain hundreds of notes from students.
Many students chose to express their grief and compassion through more informal means. The day following the shooting, several Facebook groups sprung up, bearing names such as "Pray for Virginia Tech."
The incident also caused a greater sensitivity during campus events. On April 19, UWRF Greeks were set to hold a fundraiser for the Eric Dodge Fund as part of the annual Greek Week. Students and staff would have been able to purchase squirt guns to aim at Greeks wearing t-shirts with targets on their backs.
Bridget Woodall, a member of the host organization, the Greek Programming Board, says that it would have been thoughtless to hold the event in light of the Virginia Tech shooting.
"There was concern that it would have been disrespectful to those killed or injured because of the use of guns," says Woodall, who also says she has a friend who attends Virginia Tech. "We're going to find another way to donate to Eric Dodge. Every Greek I've talked to wants to hear we're supporting VT and showing our respects."
Many students, faculty and staff also participated in 'Orange and Maroon Effect Day' by wearing Virginia Tech's colors on April 20 and a moment of silence at 11 a.m. that day as communicated by Gov. Doyle's office to state agencies.
The tragedy at Virginia Tech has caused many campuses, including UWRF, to review their own emergency plans in order to ensure greater safety.
In a special message to campus on April 20, Chancellor Don Betz wrote, "The safety of our students, staff, campus visitors and the community is a top priority. Toward that goal, a team of faculty and staff met with me today to share actions and discuss responses to the VT tragedy and to preview the new comprehensive Emergency Response Plan."
Betz also wrote that the new plan would be activated during the next few weeks, during which site emergency response team training will take place and a practice drill held. An emergency response guide, as well as more information on emergency procedures, is available for viewing at www.uwrf.edu/emergency . More information on UWRF's emergency preparedness, please contact Blake Fry, special assistant to the chancellor, at 715-425-3711.
The banner was mailed to Virginia Tech on April 23. "It is my hope that the banner will be hung in the Squires Student Center at Virginia Tech and help the VT campus community heal," says Heinselman. "The motivation to start the banner was driven by a deep concern for the VT campus, a community not unlike UWRF."
Photos: Top: Joanna Olson, a senior from Taylor, Wis., signs a memorial banner from the UWRF community that was sent to Virginia Tech.
A candlelight vigil was held outside of the University Center on the day of the tragedies at Virginia Tech.
-30-
Last updated: Thursday, 22-Apr-2010 16:08:16 Central Daylight Time