UW-RF Home > University Communications Home > This Month's News Releases
University Communications
For more information contact mark.a.kinders@uwrf.edu or brenda.k.bredahl@uwrf.edu.
Taiwan Trip Fuels International Connections
By Brian Hogenson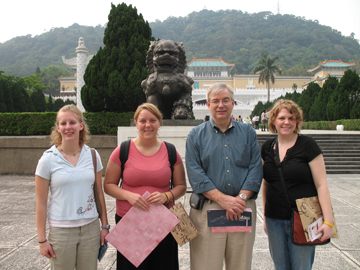 APRIL 23, 2007--Strengthening established relationships with two universities abroad, University of Wisconsin-River Falls professor of marketing Darryl Miller and a group of students visited Taiwan during spring break to learn more about the people, culture and history of the East-Asian country.
The spring break study tour was the second that UWRF students and faculty have taken to Taiwan and to study at Shih Chien University and Shih Hsin University in the city of Taipei.
The relationship with the universities in Taipei is mutual, Miller said, as they have brought study groups to UWRF in the past and plan to again in the future. There have been faculty and student exchanges between the universities as well as a program completed by 20 Taiwanese students in which a joint degree is earned by completing three years at one of the Taiwanese universities along with one year at UWRF.
A handful of UWRF students have spent a semester in Taiwan, says Miller, and the tour broadens the perspectives of students as they gain an appreciation for Chinese culture and see the differences and similarities to their own culture.
In addition to the time spent on the university campuses taking lessons in Mandarin Chinese language, Chinese cooking and Chinese calligraphy, the study tour included visits to the world's tallest building, National Palace Museum, Longshan Temple, National Tea Center, a hot springs and sites where glass products and ceramics are produced.
"The culture of Taiwan was a great experience," says Kelsey Fitschen, an international studies student at UWRF. "The cultural elements of the city allow tourists and students alike to have an amazing experience in Taiwan."
Students also had an opportunity to experience Taiwan's "night markets." One of the open-air night markets, dubbed "Snake Alley," offered the opportunity to sample some exotic culinary treats.
"While in Taiwan I had the chance to try snake soup and snake blood," said UWRF business administration student Carissa Williams. "The night life is definitely something to experience when in Taiwan."
The people of Taiwan left a lasting impression on the students. UWRF business administration student Hannah Miller said "the people there were absolutely amazing." Fitschen and Williams said the student volunteers that accompanied them throughout Taipei contributed a great deal to the wonderful experience they had while touring Taipei.
The three-credit elective course will be offered again next year and costs roughly $2,000 according to Miller, making it one of the least expensive study tours.
Miller will be returning to Taiwan in May to teach a course at Shih Chien University and is hoping a professor from Taiwan will come to UWRF next year.
-30-
Last updated: Thursday, 22-Apr-2010 16:08:15 Central Daylight Time