UW-RF Home > University Communications Home > This Month's News Releases
University Communications
For more information contact mark.a.kinders@uwrf.edu or brenda.k.bredahl@uwrf.edu.
Student Receives Service Award
By Lisa Stratton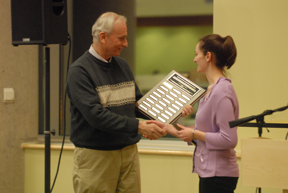 April 23, 2007--She answers phones, directs uninformed students and staff, takes the lead with fellow team members, and above all, makes sure the new University Center runs smoothly and efficiently at the University of Wisconsin-River Falls. For those efforts, UWRF student Sarah Ressel is the first recipient of the new Robert G. Sievert Student Employee Service Award.
The award, established after Sievert's retirement in honor of the 35 years of devoted service to the University, is given to a University Center student employee who emulates Sievert's dedication to UWRF.
"Students were nominated by staff and fellow students with the main criteria being exemplary customer service. Staff and students made the selection," says Mike Stifter, director of facilities management.
"I was pretty surprised because I was just doing my job. I was excited to be the one chosen out of such a great staff," says Ressel, who is a senior education major from Osseo, Minn.
Ressel is a veteran of UWRF Student Services and Programs, serving as StuCrew desk assistant and building manager. She has worked as a residence hall desk assistant, conference services assistant, and also as a campus reservations assistant, during which she worked with the Debra Martin, who nominated her. Martin, the university's conference coordinator, wanted to recognize Sarah's contribution to the university.
"Sarah brings a unique leadership talent to her positions here at UWRF," says Martin. "Her attention to detail and focus on customer service is outstanding among her peers."
Martin went on to comment on Ressel's special talents with fellow staff. "The real plus is Sarah's quiet dignity and strength. She has that special ability to lead team members to a greater awareness of their role in the organization," says Martin. "She does all of this with a special smile, and many times she has supported me when dealing with challenging work situations."
Ressel received the award from Bob Sievert in the newly dedicated Robert G. Sievert Fireplace Lounge in the University Center.
"I love working with the variety of people, the students, professional staff and community members," says Ressel. "I help students by making sure everything in the University Center runs smoothly."
Photo cutline: Sarah Ressel, a senior education major from Osseo, Minn., is the first recipient of the new Robert G. Sievert Student Employee Service Award. Reitred UWRF administrator Bob Sievert, in whose honor the award was given, congratulates Ressel.
-30-
Last updated: Thursday, 22-Apr-2010 16:08:15 Central Daylight Time