UW-RF Home > University Communications Home > This Month's News Releases
University Communications
For more information contact mark.a.kinders@uwrf.edu or brenda.k.bredahl@uwrf.edu.
Perkins Receives Women's Sports Advocacy Award
By Kate Garlock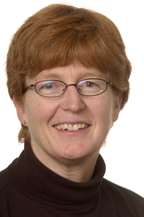 APRIL 23, 2007--As a youngster, Faye Perkins often wanted to play with the boys in sports. "The boys got to do a lot more than the girls did," recalls Perkins, who is a softball coach, professor and chairperson of the University of Wisconsin-River Falls health and human performance department. "I wanted to do what the boys did."
Her passion for sports started in grade school and continued through high school and into her collegiate years. This spring she was recognized for that passion with the Pathfinder Award by the National Association for Girls and Women in Sports.
Nominated for her lifelong advocacy of girls and women's sports, Perkins joins the prestigious ranks of more than 400 women who have received the award over the years that recognizes them for their dedication to the advocacy, recruitment and enhancement of girls and women in sports.
The year 2007 has been very successful for Perkins and her passion for women's sports; she won her 400 th softball game as coach of the UW-River Falls softball team in March, the same month she received the Pathfinder Award.
At a young age, Perkins experienced the inequalities woman faced in the realm of sports in the 1970s. This struggle fueled her efforts, she says in making sure the girls could always do what the boys did.
In the early 1970s, Perkins recalls that as a junior in high school there were no athletic opportunities for girls at her school. So she set about to change things. Her first success didn't come until she was a sophomore in high school. She convinced her school to adopt not only a women's track and field team, but a softball team as well.
For three years, the softball team never lost a game and won the state championship twice. During her senior year, she won another battle when her school added a women's basketball team after a two-year struggle.
"We practiced basketball in a pole barn with a cement floor and portable baskets," Perkins remembers. "There was no room in the 'real' gym because the boys needed it for practice."
In fall 1974, Perkins enrolled at Iowa State University in the K-12 physical education program. There, she participated in softball, basketball and track and field. Her junior year, she received one of the first scholarships that ISU offered to women.
After graduating from ISU, Perkins taught high school where she had to fight constantly for adequate facilities, equipment and numerous other things for her female athletes. She earned some respect as within five years as coach she brought the team from bottom of the conference to winning the championship two years in a row.
Perkins returned to school and received her master's degree in exercise physiology from ISU and then continued doctoral studies in health education at the University of Utah. After receiving her doctorate, Perkins came to teach at UWRF in 1988. In 1990, she participated in a Title IX review of the school making sure that the equalities specified for women in the title were available. In 1994, in part because of this review UWRF received state funding that allowed for an upgrade to the softball diamond. It is now one of the nicest diamonds in the conference, Perkins said.
"My story is not unlike millions of other women's stories of my age," Perkins says. "It's rewarding to think about how far we have come but still discouraging, at times, to think about how far we have yet to go."
The Pathfinder Award is one of Perkin's many distinctions. She was inducted into the Iowa State Athletic Hall of Fame and the Iowa High School Girls' Athletic Union Hall of Fame for softball. She has received commendation from the American Heart Association in St. Croix Valley. In 1994 she was named the UWRF College of Education Outstanding Faculty Member and named the Wisconsin Intercollegiate Athletic Conference Coach of the Year in 1996.
Perkins is also a member of coaching associations and has published and presented at numerous local, state, regional and national conferences.
"Every time I watch women athletes compete, I have to smile," Perkins said. "I hope that my efforts, in some small way, contributed to the opportunities that women now have - on and off the athletic field."
-30-
Last updated: Thursday, 22-Apr-2010 16:08:14 Central Daylight Time