UW-RF Home > University Communications Home > This Month's News Releases
University Communications
For more information contact mark.a.kinders@uwrf.edu or brenda.k.bredahl@uwrf.edu.
Nine students receive 2007 Chancellor's Award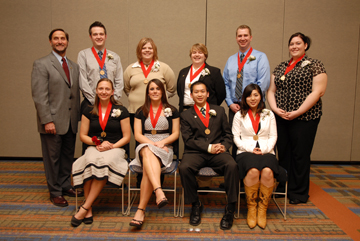 APRIL 23, 2007--Nine University of Wisconsin-River Falls students were the recipients of the 2007 Chancellor's Award for Excellence and were honored at a ceremony April 16.
The highest nonacademic honor that a student can receive at UWRF, the award is bestowed upon students who have demonstrated remarkable leadership and service to the University during their undergraduate careers.
This year's recipients include Katherine Leisch, Kathryn Krtnick, Vang Lo, Natsumi Kubo, Joseph Eggers, Ashley Olson, Lacey Felmlee, Jonathan Hill and Nicole Peters.
"These nine students represent various disciplines on campus but they have in common their passion for building a stronger institution and vital connections to people that we serve both locally and beyond," said Chancellor Don Betz. "I applaud their achievements."
Student recipients are typically upperclassmen and receive their nominations from a faculty or academic staff member or student peers through the Student Senate. A committee that reports directly to the chancellor considers every nominee. After select interviews, the committee submits their recommendations to the chancellor, who makes the final decisions.
Joseph Eggers, a senior from Appleton, Wis., and who is double majoring in political science and international studies, was nominated by peer Jim Vierling on behalf of the Student Senate. Eggers is the 2006-07 Student Senate president.
In the senate, he has also served on the Student Affairs Committee, been the Legislative Affairs director, and represented UWRF on the United Council Board of Directors. Eggers has organized events on campus that allowed legislators to interact with students and has orchestrated many lobbying trips to Madison to meet with legislators. He was named the 2004-05 UC Delegate of the Year and was selected to participate as the sole River Falls delegate to the 2005 Midwest Campus Compact Fellows program.
Tracey Gladstone-Sovell, chair of the political science department, applauded Eggers' civic commitment. "I have rarely encountered a student more committed to participation in the political process than Joe," she said. "In working to involve more of his contemporaries in the political process, Joe has laid the ground work for a more politically involved generation of citizens."
Lacey Felmlee, a senior from Cornell, Wis., who is majoring in biology with a biomedical emphasis, was nominated by peer Ashley Olson on behalf of the Student Senate. Through her work as the Gay/Straight Alliance co-chair and the founder of the UWRF Chapter of Fair Wisconsin, Felmlee has made it her mission to increase tolerance on the UWRF campus. She was an active participants in the Women's Initiatives Committee, the Health and Wellness Committee and the UWRF Inclusivity Project. In addition, Felmlee has participated in a variety of campus programs including Women's Chorus, the College Democrats, Gender Equality Council, Student Senate, the Honors Club, and the Biology Club and as a Weeks of Welcome leader and a registration facilitator.
Physics professor Rellen Hardtke commented favorably on Felmlee's dedication. "She knows her priorities and always puts her community first. I know she will make a strong and positive impact on her world."
Jonathan Hill , a senior from Balsam Lake, Wis., who is double majoring in business administration and marketing communications, was nominated by peer Jason Schultz on behalf of Student Senate. Hill's dedication extends both on and off the UWRF campus. He served as president of the Theta Chi fraternity 2004-06, and under his leadership, the River Falls chapter received the fraternity's highest national award for two consecutive years.
His past on-campus positions include admissions department tour guide and summer registration facilitator. Hill has also been involved in residence life, student government, men's chorus, the Student Alumni Association, and numerous campus committees. Off-campus, he has volunteered his services to the Relay for Life Core Committee, the Crohn's Syndrome Walk, the American Red Cross and the YMCA.
Nominator Schultz had words of praise for Hill. "When looking at a student worthy of this award, I would have to say Jon is a perfect candidate. His positive attitude and enthusiastic leadership style has influenced and help shape student leadership on this campus."
Kathryn Krtnick, a senior from Fridley, Minn., and who is double majoring in marketing communications and biology, was nominated by peer Jim Vierling on behalf of Student Senate. A two-sport athlete in volleyball and track, Krtnick is also an active member of the Student Senate.
Named Rookie of the Year her first season on the UWRF women's volleyball team, Krtnick has been the recipient of numerous awards for her athletic ability. A two-time UWRF Player of the Year, Krtnick's accolades culminated in recognition as the 2006 Wisconsin Intercollegiate Athletic Conference Scholar-Athlete of the Year for volleyball. In the Senate, Krtnick has served as Recreation Committee chair and has held positions in many other groups including the Facilities and Fees Board and the Student Athlete Advisory Committee. She has also spent two summers working as an intern with the UWRF University Communications office for the Kansas City Chiefs summer training camps.
Nominator Vierling remarked favorably on Krtnick's abilities. "Kat excels at what seems like everything, and it affects more than just her. She has held many leadership positions and made contributions that will leave a lasting legacy on campus."
Natsumi Kubo , a senior from Kagoshima, Japan who is majoring in speech communication, was nominated by Brent Greene, director of international programs. Kubo has shown a strong commitment to serving the community with her involvement in many volunteer and service activities since coming to UWRF. She is a member of the International Student Association and has participated in the International Bazaar.
Kubo is also active in CATTS (Cultural Awareness Through Talking and Sharing), a UWRF student group that visits local schools and civic organizations to teach others about cultural differences and acceptance. A dancer, she takes part in the UWRF Dance Theatre as both a performer and choreographer.
Nominator Greene described Kubo as radiating "deep passion, kindness and a wonderful vision of a more compassionate world. She will serve as a true, life-long global ambassador for UW-River Falls."
Katherine Leisch , a senior from Dresser, Wis., who is double majoring in health and human performance and biology, was nominated by fellow recipient Joseph Eggers on behalf of the Student Senate. Leisch's activities have encompassed everything from athletics to civic engagement.
She has served as a member of Student Senate, the Diversity Awareness Committee, River Falls Peace and Justice, and the University Committee on Health and Wellness. An athlete, she is active in the River Falls Running Club, the Health, Physical Education and Recreation Club and many intramural sports. Most recently, Leisch traveled to Madison to visit with legislators about the campus need for a new Health and Human Performance building. She has also volunteered in the Gulf Coast of Louisiana and in Kampala, Uganda as a J-term service trip participant.
Amy Lloyd, SSS advisor and one of the chaperones on the Uganda trip, lauded Leisch's resourcefulness. "Katy encompasses all of the qualities anyone working in higher education would hope to see develop within their student. She serves in a leadership capacity wherever she is involved and is constantly working to make positive change happen on the UWRF campus, in the River Falls community, and in the greater world."
Vang Lo , a senior from St. Paul, Minn., who is majoring in marketing communications, was nominated by Jill Moe, director of the UWRF Upward Bound Program.
From student senator to founder of the UWRF Badminton Club, Lo is a very active member of the UWRF community. He is a member of the Asian Student Association and served as a resident assistant for two years. He has volunteered with Habitat for Humanity and at Sharing and Caring Hands as part of the Falcon Fellows tutoring program and participated in the Destination-Gulf Coast Katrina Relief efforts. As a member of the Student Senate, Lo was instrumental in opening the Multicultural Programming and Resource Center on campus.
Carolyn Brady, multicultural outreach specialist, said that Lo's greatest strength was his selflessness. "As an active member of the campus community, Vang has always put the needs of others ahead of his own. As a result of his compassion and commitment, Vang is widely known and respected as an advocate and friend to the greater campus community."
Ashley Olson, a senior from Eau Claire, Wis., who is majoring in psychology was nominated by peer Yussufu Nsabimana on behalf of Student Senate. Olson's involvement has demonstrated her commitment to diversity awareness on the UWRF campus.
Olson is a member of a number of groups dedicated improving the campus climate including the Gay Straight Alliance, the Black Student Union, Student Senate, where she chairs the Diversity Issues Committee, and the Gender Equality Council. Additionally, she also represents UWRF on the River Falls Community Diversity Coalition, and has served on various university-wide initiatives including the Sexual Assault Task Force and the Faculty Senate Multicultural Advisory Committee.
Psychology professor Travis Tubre described Olson a person who is "willing to speak her mind about difficult issues but creates a climate where differing opinions are welcomed. She speaks freely about her experiences with discrimination and sets an example for how diversity adds strength to our campus and helps us all."
Nicole Peters, a senior from Clear Lake, Wis., who is majoring in speech communication, was nominated by peer Jim Vierling on behalf of Student Senate.
As treasurer of the Student Organizations Committee, Peters has had an active role in regulating and supporting the more than 150 student organizations recognized on the UWRF campus. She has been a member of numerous campus groups, including the Wisconsin FFA, the Agricultural Education Society and Smiles 4 Kids. Peters has also been a camp counselor, a resident assistant, and manager of two different residence halls on campus. She was the inaugural manager for the George R. Field South Fork Suites, UWRF's newest living community that opened last year.
Area coordinator Jason Neuhaus complimented Peters on her residence hall leadership abilities. "It takes a special student to be able to supervise her peers in a leadership role, but due to her maturity and experience, the staff respects her, trusts her, and appreciates her as a supervisor, student, and peer. She is seen as a mentor to those around her, due to her involvement and leadership on campus."
Caption: Nine students received the Chancellor's Award for Excellence at UW-River Falls. Pictured, seated, l to r: Katherine Leisch, Kathryn Krtnick, Vang Lo and Natsumi Kubo. Back row, l to r: Chancellor Don Betz, Joseph Eggers, Ashley Olson, Lacey Felmlee, Jonathan Hill and Nicole Peters.
-30-
Last updated: Thursday, 22-Apr-2010 16:08:14 Central Daylight Time