UW-RF Home > University Communications Home > This Month's News Releases
University Communications
For more information contact mark.a.kinders@uwrf.edu or brenda.k.bredahl@uwrf.edu.
Dance Theatre Presents Spring Concert with Special Guests
APRIL 20, 2007--The University of Wisconsin -River Falls Dance Theatre will perform its annual concert on April 25-28 at 7:30 p.m. in the Davis Theatre of the Kleinpell Fine Arts building. The concert will feature the work of two guest choreographers, Eddie Oroyan, and Bryan Gerber. Oroyan, a member of the Black Label Movement Dance Company from Minneapolis, has been working with students since November to create a high-powered energy piece named "The Redemption of Cal Trask." Gerber, the artistic director of Aurora Dance Company in St. Paul, has created an original piece of choreography that explores self-identity.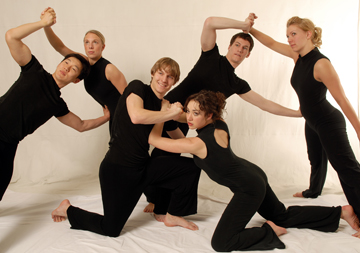 The concert will also feature a solo by visiting guest artist, Einojo Senju, headmaster of the Senju School of Japanese Classical Dance. Dance Theatre members traveled to Osaka, Japan in January to study with Senju. There will be a reception for Senju immediately following Friday's performance in the Riverview Ballroom of the University Center. Semju will visit various UWRF classes during his stay April 22 - 29, and will visit the Japanese 1 and 2 classes at the River Falls High School on Friday morning, April 27.
Tickets are from $5 to $7 and available from 10 a.m. to 2 p.m., April 23-27, at the box office in the Kleinpell Fine Arts building and before each evening performance beginning at 6 p.m. Wednesday night's performance has a reduced ticket price of $4 for students. For more information contact the box office at 715-425-3114.
-30-
Last updated: Thursday, 22-Apr-2010 16:08:14 Central Daylight Time