UW-RF Home > University Communications Home > This Month's News Releases
University Communications
For more information contact mark.a.kinders@uwrf.edu or brenda.k.bredahl@uwrf.edu.
Students Take Alternative Spring Breaks
By Lisa Stratton
APRIL 16, 2007--While Canadian universities call it 'reading week' and MTV uses it as an opportunity to film scantily clad young adults gyrating to loud music on the beach, University of Wisconsin - River Falls students defined spring break a little differently this year.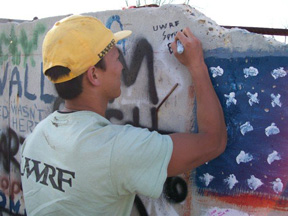 Some 62 students and five staff members participated in "Destination: Alternative Spring Break," a series of community service trips held over spring break week. Amanda Moeller, a volunteer with AmeriCorps*VISTA, which develops campus and community partnerships to find sustainable solutions to social problems, coordinated the program.
"I have spent the past year helping students find opportunities to explore their interests and work towards social justice," says Moeller. "Service-learning experiences such as Destination: Alternative Spring Breaks ask students to reflect on the causes, effects and solutions to social issues."
Students and staff spent the week in five locations around the country: Chicago, Illinois; Athens, Ala.; Kansas City, Mo.; Gulfport, Miss.; and Crossville, Tenn. In Kansas City, students helped build a home for Habitat for Humanity's 'Collegiate Challenge,' which provides opportunities for students from youth groups, high schools and colleges to spend a week of their school break building a house in partnership with a Habitat for Humanity affiliate in the United States.

In Chicago, participants worked with the Campus Kitchens Project at Northwestern University and volunteered at the Children's Place Association, which serves children affected by HIV and AIDS as part of a trip goal of HIV/AIDS advocacy.
The trip to Tennessee afforded students the opportunity to spend a week volunteering on the Cumberland Trail. Rebecca Vandenhoy, a senior from Seymour, Wis., served as a trip leader.
"We traveled to Crossville to work on part of the Cumberland Trail. At first, what we were to do sounded easy," says Vandenhoy. "However, we soon discovered that rocks often got in our way, and that we needed to make sure that water would not destroy the trail that we had just built in the future. Working all day on the trails taught us a lot about our bodies, water intake, and materials needed to build trails."
Vandenhoy, a second-year volunteer with Destination: Alternative Spring Break, says she also gained personal fulfillment through her experience.
"The trip taught me a lot about myself. It was great getting to know people from Tennessee and do a different alternative break, as ours dealt with the outdoors and not helping people directly," says Vandenhoy. "Too often people say that university students are lazy. However, if those people would look around, they would see many university students changing tomorrow's world for the better."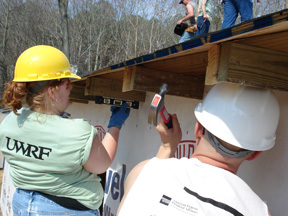 Athens was another city in which students helped out Habitat for Humanity. Jessie Gadach, a junior from Elk River, Minn., lead a group of 10 students to construct a new home for an area family.
"Our group finished the roof, installed windows and doors, helped run electrical and plumbing, and did various odds and ends jobs to help with the building process," says Gadach.
Gadach says the level of acceptance and friendliness from the Athens community impressed her.
"I gained friendships from the nine other group members as wells as friendships for the Athen's community. They embraced us and took us in like we were all family and that is a feeling that I hoped to bring back to UWRF," says Gadach.
Gulfport was one of many areas of the country ravaged by Hurricane Katrina, one of the deadliest hurricanes to hit the United States in August 2005. With a death toll of more than 1,800, Katrina demolished cities and left thousands homeless. During spring break, UWRF students returned to the damaged community for the third time to assist in the continuing efforts to rebuild.
Mindy McCann, a senior from Lancaster, Wis., turned down a more conventional spring break trip in favor of traveling to Gulfport.
"I was amazed at all the disaster still in Gulfport a year and a half after the hurricane. I wasn't going to pass it up for a trip I could take later in life," says McCann. "No traditional trip could ever compete with helping survivors of Hurricane Katrina get their lives back together. The families we helped were so grateful to have us travel to spend time with them instead of on a beach."
Moeller says she knows what appeals to students about forgoing a routine trip to the beach.
"Students are overwhelmingly drawn to alternative spring break trips because they want to help others and experience something new, but in exchange for their service they often learn about a new culture, explore social conditions, build relationships and are hopefully inspired to continue to be engaged in their local communities upon their return," says Moeller.
The Destination: Alternative Spring Break teams earned acclaim at all five volunteering sites, Moeller says.
"The feedback I received is that our students had a tremendous work ethic. In fact, at three of our sites students completed a week's worth of work in just two days," says Moeller. "Their work was greatly appreciated and I know many of the students plan to return to their sites again next year."
Nationally, alternative spring break travels have been gaining in popularity, with major news outlets such as The Wall Street Journal, CBS News, and USA Today extolling its virtues. Even the proponent of bikinis and sun block, MTV, took notice this year, Moeller said.
"I think the experience helps them to see the ways in which they can work for social change and not just 'help' others," says Moeller.
Those interested in participating in Destination 2008 should look for more information next fall regarding sites and application process. To donate to Destination: Alternative Spring Break, please contact UW-River Falls Foundation at 877-258-6647.
Photo cutlines:
Above, right: Student Jake Cavanaugh, a junior from Cloquet, Minn., leaves his mark on a stone wall in Gulfport, Miss.
Above, left: Student Jessie Gadach levels a floor joist in Athens, Ala. A junior from Elk River, Minn., Gedach, a trip leader, volunteered with Habitat for Humanity.
-30-
Last updated: Thursday, 22-Apr-2010 16:08:13 Central Daylight Time