UW-RF Home > University Communications Home > This Month's News Releases
University Communications
For more information contact mark.a.kinders@uwrf.edu or brenda.k.bredahl@uwrf.edu.
CAFES Team Assists Paraguay Beef Producers
By Kendra Knutson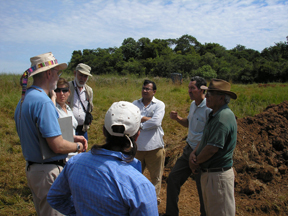 APRIL 16, 2007--A team of two retired professors and one current professor from the University of Wisconsin-River Falls College of Agriculture, Environmental and Food Science traveled to Paraguay in a joint effort to improve beef cattle production in that country.
Dennis Cooper, professor in the animal and food science department, along with Jerry Nolte, professor emeritus in agricultural economics and Lou Greub, professor emeritus in agronomy, visited Paraguay in March. Nolte was team leader, contributing his budgeting skills and awareness of production costs. Greub added his expertise on forage crop production and rotational grazing, and Cooper carried his knowledge of cattle nutrition and forage utilization.
The group spent the first night in Asuncion. The following day they drove three hours south to San Juan Bautista where they would spend 10 days at a guest ranch, 13 miles away from town. This is also the city where much of their work would be accomplished.
The main challenge that the UWRF team encountered was Paraguay's beef quality which is substandard--being tough and strongly flavored. Cooper says this is a sign that steers are too mature when they reach slaughter and is likely due to the cattle's diet.
"Cattle are mostly grazed on overly mature grass pasture, which is almost like wood, very indigestible, and more important, difficult for the cattle to eat enough to grow on" said Cooper. Therefore, cattle grow slowly and take up to four or more years to reach market, compared to the beef cattle in the United States who reach market between two and two-and-a-half.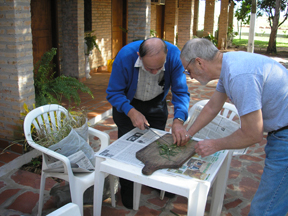 The trio's main goal was improving overall forage quality so that ranchers could reduce production costs and increase revenue. They focused on introducing and implementing rotational grazing into the country's beef production management, therefore, permitting the pastures to be grazed when grass is young and tender.
"The cattle will eat much more of it and digest a higher proportion," said Cooper. "Thus, they will grow faster and get slaughtered at a younger age, thereby producing higher quality more tender beef that will command a higher market price."
The group faced difficulties convincing the traditional ranchers of Paraguay to make these changes. In order to gain their cooperation, Cooper, Nolte, and Greub made ranch visits and spent time working with a local veterinary college farm.
In an effort to provide practical information and systems that the ranchers could apply on their own land, the team implemented two projects at the vet college. One project was a rotational grazing plan and the other consisted of forage test plots. "A critical component to improving forage quality is the ability to test forages in a laboratory," said Cooper, so the group also spent sometime researching laboratory availability and costs.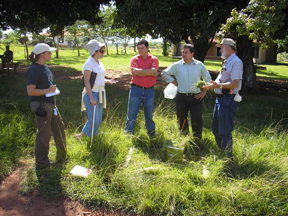 ACDI/VOCA, a U.S. based, private, non-profit, organization that promotes economic growth and development in emerging democracies and developing countries sponsored the team's trip. "I've done a lot of foreign assistance projects, and this was one of the best ones," said Cooper.
-30-
Top, right: L to R: UWRF Professor Emeritus Jerry Nolte, Elisa Echague, UWRF Professor Emeritus Lou Greub, with three Paraguayan cattle producers. Ashley Raasch in foreround.
Middle, left: L to R: Emeriti Professors Lou Greub and Jerry Nolte chop samples of pasture grass in Paraguay.
Bottom, right: L to R: Ashley Raasch, Elisa Echague, Felix Cabral, Jorge Silva and UWRF Professor Emeritus Lou Greub in the field.
-30-
Last updated: Thursday, 22-Apr-2010 16:08:13 Central Daylight Time