UW-RF Home > University Communications Home > This Month's News Releases
University Communications
For more information contact mark.a.kinders@uwrf.edu or brenda.k.bredahl@uwrf.edu.
UWRF Professor to Research Artificial Tissue Therapeutics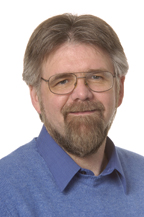 APRIL 16, 2007--A research project to explore innovative new ways of generating artificial tissues will be pursued at the University of Wisconsin-River Falls as a result of a state grant.
WiSys granted $72,896 funding for the first 18 months of a three-year project to biology Professor Timothy Lyden for his proposal on "Development of Artificial-Tissue Methods." Lyden is the founding director of the UWRF Cellular Imaging and Analysis Center.
WiSys Inc. identifies innovative technologies developed throughout the University of Wisconsin System and brings them to the marketplace for the benefit of the inventors, their colleges, Wisconsin's economy and society as a whole.
WiSys will support Lyden's work for three years.
"Our decision was greatly influenced by the excellent scientific merit of the proposal as well as the willingness of the UW-River Falls campus to provide matching funds" said Maliyakal John, WiSys managing director.
Lyden's research will further the development of artificial tissues through laboratory research. Commercially, he will work toward potentially producing new tissue engineering products, and scientifically his main focus will be to evaluate the characteristics of primary artificial tissue characteristics and their pharmaceutical applications.
For the past two years, Lyden has been conducting preliminary research on artificial tissue production. His success led to the WiSys grant to further explore the potential.
"This new technology appears to hold great promise to address several of the significant problems and issues associated with cell-based pharmaceutical production," Lyden said. "In addition, the unique natural materials used for our artificial tissue development also holds great promise as a source of new bioengineering materials that may well have a significant impact on the direction of current tissue engineering methods and technologies. "
He said the research method opens several new approaches to streamlining biomaterials manufacturing problems for industry. Should his research under the WiSys grant advance his preliminary results, it could potentially revolutionize certain aspects of the pharmaceutical industry by replacing inefficient or ineffective processes currently in use.
Using these methods, Lyden's research team has already addressed generating artificial tissues for the brain, heart, lung, liver, bone and cartilage from primary tissues.
They have also grown artificial tissues from a number of cell lines of epithelial origin. These essential tissues enclose and protect parts of the body or produce secretions.
Lyden said his preliminary research techniques have produced artificial tissues that mimic the originals.
The advantage in this program is how closely their methods should be able to achieve tissue-like cell densities. Other companies are currently investigating similar approaches using other types of techniques, but appear to be less efficient than the methods employed by Lyden and his lab.
Lyden said the project also may produce inroads into generating synthetic materials that could significantly impact the current state-of-the-art in regenerative medicine.
There also is a significant possibility of developing a new biotechnology start-up company in west-central Wisconsin. The product focus of such a company would be development of research-related reagents. Such a company could generate up to 40 new mid- to high-level biotechnology jobs within the next decade, Lyden said.
Should Lyden's research succeed commercially, it could potentially generate thousands of dollars for the UW System through WiSys. A portion of this money would come back to UWRF and Lyden, which would be used for additional research. The balance of this income would remain with WiSys and be used to fund other research projects that have commercial applications.
-30-
-30-
Last updated: Thursday, 22-Apr-2010 16:08:12 Central Daylight Time