UW-RF Home > University Communications Home > This Month's News Releases
University Communications
For more information contact mark.a.kinders@uwrf.edu or brenda.k.bredahl@uwrf.edu.
Renowned Documentary Photographer Exhibit and Visit Set
By Meghan Dusek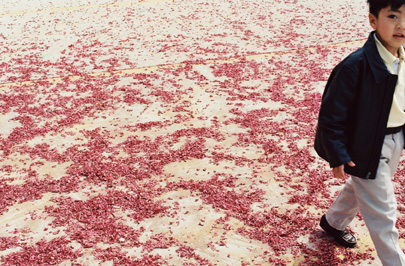 APRIL 6, 2007--The work of Chinese-American photographer Wing Young Huie, who is a Minnesota native, will be shown in the third floor gallery and on the lower level of the University Center on the UW-River Falls campus from April 1-20, and his documentary film, "9 Months in America: An Ethnocentric Tour" by Huie and Tara Simpson Huie will be shown at 7:30 p.m. on April 13 in the Kinnickinnic River Theater of the University Center. The film chronicles the couple's search for Asian America. A question-and-answer session with Huie will follow the presentation.
Wing Young Huie is internationally known for his numerous projects based in Minnesota, reflecting the cycle of change in the metro area. He will also discuss his work as a guest in the Working Journalists Seminar series sponsored by the UWRF journalism department on April 19 at 7 p.m. in Room 200 of the Agriculture Science Building on campus. All events are free and open to the public
"For the last decade I've been photographing the dizzying mixture of socioeconomic, ethnic, and cultural communities that encompass my home state, a place that is bearing little resemblance to the fictional land of [Prairie Home Companion's] Lake Wobegon," says Huie. "My work focuses on the submerged and hidden communities that exist mostly on the periphery of the prevailing cultural radar. What I want is to reveal not only what is hidden, but also what is plainly visible and seldom noticed."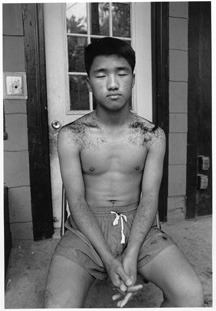 Huie first gained recognition for Frogtown (1995), a series of photographs depicting everyday life in one of Minnesota's oldest neighborhoods and the largest Hmong community in Minnesota. This groundbreaking outdoor installation on a vacant grass lot in Frogtown was open 24 hours a day and attracted people to an urban, inner-ring neighborhood they might not otherwise have visited. The Minnesota Historical Society Press published his photographs as a book, "Frogtown: Conversations and Photographs in an Urban Neighborhood," in 1996.
In 2000 Huie debuted "Lake Street USA," which incorporated five years of time, the collaboration of arts and community organizations, and six miles of public thoroughfare. Huie created an epic public gallery of 675 photographs, ranging in size from 8x10 inches to 8x12 feet, that were displayed in store windows, bus stops, billboards--any blank space. The work was published in a book "Lake Street USA."
The film--"9 Months in America: An Ethnocentric Tour"--chronicles a nine-month, 39-state journey Huie and his wife Tara took in search of Asian America. In their search of "ethnocentric" culture, they encounter a Vietnamese Elvis, a Hmong sign in rural South Carolina, a meditating Falun Gong protestor, and a self-described "red-neck" Chinese restaurant owner.
"His work illustrates how socially relevant art is today, particularly in bringing certain subject matter forward," says Terry Brown, dean of the UWRF College of Arts. Brown assisted in coordinating this exhibit with the "Spaces of Civic Engagement" American Democracy Project (ADP) Midwest Regional Conference, hosted by UWRF April 12-14.
For more information on the exhibit, contact curator Patricia Briggs at pbriggs@mcad.edu. For more information on the Working Journalist Seminar series, contact Colleen Callahan at colleen.a.callhan@uwrf.edu or 715-425-3169. For more information on UWRF's participation in the American Democracy Project go to http://www.uwrf.edu/adp/.
Photos: Above, right: "Year of the Horse." Above, left: Untitled-1994 from the Frogtown exhibit.
-30-
Last updated: Thursday, 22-Apr-2010 16:08:10 Central Daylight Time