UW-RF Home > University Communications Home > This Month's News Releases
University Communications
For more information contact mark.a.kinders@uwrf.edu or brenda.k.bredahl@uwrf.edu.
Profs Named Teaching UW System Scholar, Fellow
By Kendra Knutson
APRIL 6, 2007--Two professors at the University of Wisconsin-River Falls were recognized at the state level for both their knowledge and interest in the scholarship of teaching and learning as well as success in their profession.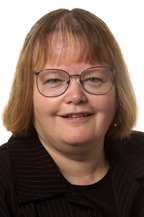 Mathematics professor Kathryn Ernie (left), was named a 2006-07 Wisconsin Teaching Scholar by the University of Wisconsin System, along with 14 other professors throughout the state. Jude Rathburn, ,right) a business administration professor, was named a 2006-07 Wisconsin Teaching Fellow along with 16 others throughout Wisconsin.
"UWRF is pleased to have two of its faculty members receive such a prestigious honor," said Charles Hurt, provost and vice chancellor for academic affairs. "UWRF is committed to excellent teaching and, as demonstrated by these awards, has faculty who more than meet this commitment. We have much we can share and also much we can learn from the interaction that these awards allow with others who were also recognized for their excellence."
Ernie, of Hudson, who is in her 28 th year of teaching at UWRF, was selected for her excellence in teaching, success in applying and sharing teaching and learning innovations, as well as the leadership qualities she possesses. Ernie received a Ph.D. from the University of Minnesota. She received a College of Arts and Sciences Faculty award in fall 2005 and has attended numerous conferences including state, regional and national meetings. Ernie is also the former chair and committee member of UWRF's Instructional Improvement Committee as well as the Instructional Technology Committee.
Teaching scholars and fellows have the chance to participate with other faculty within the UW System, focusing on how to improve teaching and how students learn. Ernie said, "We have had and will continue to have opportunities to learn about and share new methods of teaching and improving learning for our university students, through Faculty College last May, the week-long UW System Teaching Scholars and Fellows Conference last June, a November meeting for scholars, and now an upcoming meeting in late March."
While attending several of these events, Ernie said they focused on the writings of leaders in the scholarship of teaching and learning and Carnegie Scholars while also learning from guest speakers who have discovered innovative ways to improve learning and teaching at the university level. Each scholar is expected to develop and present projects related to the scholarship of teaching and learning.
Recently Ernie was the lead speaker for the first contributed paper session on the Scholarship of Teaching and Learning in Mathematics at the National Joint Conference of the American Mathematical Society and the Mathematics Association of America. She presented her project that she finished this past fall.
"The project related to understanding how university students approach sequence problems and how the use of visualization promotes student understanding and ability to generalize," said Ernie. "The project appears to assist in the process of connecting both geometric and algebraic representations of the process with a proof without words approach." Students explain their generalizations with description and a series of geometric drawings. Ernie expects to continue the project next fall.
Wisconsin teaching fellows are selected according to set criteria. They must be full-time, untenured faculty or teaching academic staff with at least two years' teaching experience at the college level. The prospective fellows must also be willing to create a SoTL project and be interested in liberal arts education issues. Fellows are also required to attend the same four educational events that tthe scholars do.
Rathburn, of River Falls and who holds a Ph.D. from Arizona State University, focuses her research on managerial cognition, strategic leadership, executive succession, and managers' strategic decision-making. She actively uses technology to enhance student learning and understanding. Rathburn has presented her work at many national and international conferences including the Academy of Management, the American Association of Higher Education, the International Society for the Scholarship of Teaching and Learning, and the Association for Educational Technology and Communication.
Rathburn is also actively involved in the work of the UW System's Leadership Site for the Scholarship of Teaching and Learning, as well as the UW System's Office for Professional and Instructional Development.
-30-
Last updated: Thursday, 22-Apr-2010 16:08:10 Central Daylight Time