UW-RF Home > University Communications Home > This Month's News Releases
University Communications
For more information contact mark.a.kinders@uwrf.edu or brenda.k.bredahl@uwrf.edu.
UWRF Launches Institute for Sustainability Challenges
For more information, contact Kelly Cain at 715-425-3729 or Mark Kinders at 800-228-5451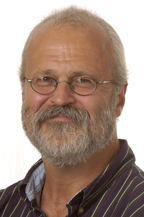 APRIL 6, 2007--Confronted by sustainability issues of growth and change, communities in the St. Croix Valley and the University of Wisconsin-River Falls campus now have a formal institute through the University to assist them to address those challenges.
The St. Croix Institute for Sustainable Community Development has been created at the University to address sustainability in the broadest approaches, according to Chancellor Don Betz.
"The institute represents our commitment to responding to the many calls for assistance from local governments and non-profit organizations that have been increasing every year, as well as our initiatives in our own campus community," Betz said.
"We will partner with those communities to address issues of sustainability in the environment, in economic development, and in social issues as the unprecedented expansion of the Twin Cities into west-central Wisconsin changes our community and personal landscapes," Betz explained.
Betz said the institute also will coordinate the efforts across campus as it implements a major institutional initiative to become an energy sustainable, self-sufficient campus.
Additionally, Betz noted, UWRF will continue to pursue and expand on its international partnerships in both hemispheres in which it has collaborated on resolving sustainability problems.
Named to head the institute as its director is UWRF environmental sciences Professor Kelly Cain (above, right). He will begin his duties on May 15. A faculty member since 1986, Cain has assisted numerous communities in the region and internationally in addressing land use and sustainability issues. He also is co-coordinator of the UWRF Sustainable Community Development master's degree program and coordinator of the Wildlife Recreation and Nature Tourism graduate certificate program.
"I am genuinely humbled by this appointment, yet very excited to address the opportunities that lie ahead," Cain said. "Establishing the SCISCD is testament to the unreserved commitment that UWRF has to the people of the St. Croix River valley, the state, nation and beyond for addressing sustainable community issues.
"I think there is no more important work to be done than to address global issues through maximizing community and regional solutions. I look forward to being of service."
The institute's response to issues of community growth is the outcome of public meetings and subsequent collaborations initiated by the University in 2004. During town hall discussions community leaders identified more than 110 issues of common concern as a result of growth.
In response UWRF facilitated the incorporation of the Western Wisconsin Intergovernmental Collaborative, which is open to all 99 village, town, city and county governments in Pierce, Polk and St. Croix counties. WWIC meets quarterly and has explored such topics as smart growth, methamphetamine trafficking, regional traffic and highway development projects, tourism as economic development, and wastewater treatment options.
According to Cain, the institute will work through the WWIC and other partners to identify community problems and regional concerns in which UWRF can provide assistance. It will help communities to prioritize growth issues and then work with UWRF faculty to build interdisciplinary teams of students who can identify the best solutions to those problems. Cain said UWRF also will collaborate with other agencies to help communities to solve their growth problems.
The institute will follow procedures that have worked well in recent years as UWRF has responded to requests for community assistance, Cain said. Among those helped include Amery, Osceola, St. Croix Falls, Hudson, River Falls and numerous townships. The projects have ranged from revitalizing downtown areas to reclaiming brown spaces to exploring "green" industrial parks to reviewing model ordinances.
The new director also will coordinate UWRF's numerous internal initiatives to implement sustainability issues across campus. In its recently adopted strategic plan, the campus identified sustainability as an institutional priority. Among the activities initiated in recent years that drove that decision are:
·Last August Gov. Jim Doyle designated that UWRF is among four UW System campuses to will go "off the grid" by 2012. Last month the campus signed an agreement with Wisconsin Public Power, Inc., and River Falls Municipal Utilities that contributes to that objective through the purchase of "green blocks" of energy. The campus also will explore other alternative energy sources, such as wind generators and passive solar.
·Students have strongly committed to energy sustainability. This includes the construction of a "green" $34 million University Center, in which students invested $1 million on sustainability initiatives. Led by the ECO club, students also have been active in such areas as reducing energy consumption in residence halls, recycling drives and education programs and workshops for students and the community. They have also responded to a call by U.S. Rep. Ron Kind (D-La Crosse) to reduce energy consumption across campus.
·UWRF also is a member and leader of national and international sustainability organizations. The campus is a member of the Association for the Advancement of Sustainability in Higher Education. UWRF is a charter signatory of the American College and University Presidents Climate Commitment, with Chancellor Betz a founding member of the Leadership Circle of presidents and chancellors.
Campus sustainability activities can be found online at http://www.uwrf.edu/sustain/.
Chancellor Betz said the institute is in keeping with UWRF's commitment to the region and its residents, as well as the campus's values.
"We are in the ideal place and time to bring the resources of the University to bear on issues of real concern on campus, in the St. Croix Valley and beyond. We not only intend to be a regional partner in facilitating discussions and implementing solutions on sustainability, but we will do this in a way that is a model for other regions around the state, nation and beyond that are experiencing pervasive change."
-30-
Last updated: Thursday, 22-Apr-2010 16:08:09 Central Daylight Time