UW-RF Home > University Communications Home > This Month's News Releases
University Communications
For more information contact mark.a.kinders@uwrf.edu or brenda.k.bredahl@uwrf.edu.
Swedish Composer to Premiere Work at UWRF
By Meghan Dusek
MARCH 30, 2007--The 41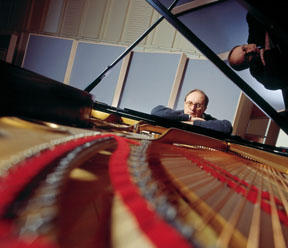 st Annual Commissioned Composer Concert at UW-River Falls, featuring the world premiere of a composed work by renowned Swedish jazz pianist and composer-in-residence Lars Jansson, will be April 12 at 7:30 p.m. in the William Abbott Concert Hall of the Kleinpell Fine Arts Building.
Jansson will also perform with UWRF music faculty David Milne, Craig Hara and Eric Graham on Saturday, April 14 at 7:30 p.m. in the Falcon's Nest of the University Center. Both performances are free and open to the public.
Jansson is one of Sweden's premiere jazz musicians and a world-renowned composer and arranger of big band sounds as well as a first-rate pianist. His works have performed around the world and released on numerous albums. Jansson will be in residence the week of April 9-13 and provide workshops for students.
The Commissioned Composer project began in 1967 by retired music professor Conrad De Jung who commissioned Vincent Persichetti to compose a piece specifically for the university. In the 41 years since, the project has established UWRF in the international music scene and also introduced students to contemporary music trends. The project has since engaged such internationally known composers as John Cage ("Quartet"), Fisher Tull ("Quodlibet"), and Pulitzer Prize-winner Henry Brant ("A Plan of the Air").
Students and the faculty advisor, currently David Milne, choose the composer. The Commissioned Composer Project is made possible by funds from the UWRF Musical Arts Committee under the Leadership Development and Programming Board.
For more information on Jansson go to his web site at http://www.lars.jp/e/info.html or for information on the Commissioned Composer series see the UW-River Falls music department web site at http://www.uwrf.edu/music/events.html.
-30-
Last updated: Thursday, 22-Apr-2010 16:08:09 Central Daylight Time