UW-RF Home > University Communications Home > This Month's News Releases
University Communications
For more information contact mark.a.kinders@uwrf.edu or brenda.k.bredahl@uwrf.edu.
UWRF Student Takes First in Curling Nationals
By Kendra Knutson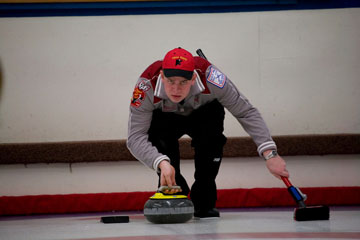 MARCH 30, 2007--University of Wisconsin-River Falls student John Lilla and his teammates recently won the U.S. Curling Jr. Nationals held in Seattle, Wash. Lilla, a sophomore agricultural engineering technology major, has been curling for 14 years.
Growing up on a dairy farm near Trempealeau, Wis., he and his family were always very involved with the curling club in nearby Centerville. He credits his father, who played in high school, for sparking his interest in the sport. Aside from that Lilla says farm life has taught him to work hard and strive for the things you want in order to succeed. He assists with the daily chores when he's home and over the summer helps with the corn, bean, and alfalfa crops.
"Curling at a competitive level, you need to work hard to get somewhere," said Lilla. "Training, practicing, and still working on the farm at home doesn't leave much time for other things."
Lilla has curled all over the world including Scotland, Canada and the northern United States numerous times and has received several awards. In addition to this year's Jr. Nationals win, his awards include: 2005 U.S. Junior National Championships runner-up; 2007 Wisconsin State Playdowns Champions along with three second place finishes in 2002, 2003, and 2005; 2004 U-18 Optimist International Bonspiel (a curling term meaning tournament); and the Tom Brozic Sportsmanship Award.
Lilla is passionate about the game because it is both competitive and social. His curling idol is Mike Peplinski, from La Crosse, Wis., who was a member of the 1998 U.S. Olympic Curling Team that placed fourth.
In 2004, Lilla's team tried out for the Olympics but didn't quite make the cut. If they had advanced, they would have received $60,000 to help with training expenses. Lilla says that the team will try again in 2009 for the 2010 Olympics.
Lilla and his team have wrapped up their successful season for the year and look forward to next year's curling season when they usually begin competing in August.
Along with his future Olympic plans, Lilla hopes to join the agricultural industry by testing and improving farm equipment after graduation.
A lot of people are still unaware of what the curling sport entails. According to the curling school Web site http://www.curlingschool.com/manual2007/Section1.html, many think the sport likely originated in Europe around the 1500s on lakes and ponds and came to the U.S. from Scotland in 1932. It is actively played in more than 30 countries in Europe, Asia, North America, New Zealand and Australia. The sport is usually played indoors at curling facilities that have multiple sheets (lanes) of ice. Curling can be played and enjoyed by almost all age groups.
It is a team sport consisting of four people on each team. Two teams compete against each other, each team sliding a 42-pound granite rock (curling stone), down a sheet (lane) of ice 140 feet long by 15 feet wide. The rocks are delivered from one end of the sheet to the other toward the center of a 12-foot target using a "broom" to regulate speed, distance and placement.
The object of the game is to score as many rocks as possible by "throwing" them closest to the center of the 12-foot ring. Targets are painted just below the surface of the ice at both ends of the lanes so the game can be played back and forth several times. Each player throws two rocks toward the target, alternating with the opponent. After all 16 rocks have been thrown the score will be determined.
Teams score a point for each rock closest to the center of the "house" without an opponent's rock closer. The "house" is made up of four circles of 12 feet, 8 feet, 4 feet, and approximately 1 foot in diameter. In each end, only one team can score. One unique thing about curling is called sweeping. Players sweep the ice in front of the rock to keep it moving. The friction of the brooms melts the ice path and lubricates the bottom of the rock allowing it to travel farther and straighter.
-30-
Last updated: Thursday, 22-Apr-2010 16:08:08 Central Daylight Time