UW-RF Home > University Communications Home > This Month's News Releases
University Communications
For more information contact mark.a.kinders@uwrf.edu or brenda.k.bredahl@uwrf.edu.
Prof Receives PAS Certification
By Kendra Knutson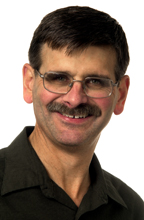 MARCH 30, 2007--Gary Onan, a professor at the University of Wisconsin-River Falls, has received Professional Animal Scientist certification.
Onan, a professor in the department of animal and food science, has completed all of the requirements to receive his PAS certification with specialization in meat science and sheep and goat.
The certification, which is obtained from the American Registry of Professional Animal Scientists (ARPAS), is becoming an increasingly important asset for professionals working in the animal industries.
Onan said he decided to become certified to encourage UWRF students to pursue the certification as the department of animal and food science. With his certification, Onan can administer the PAS exams to graduating seniors as part of the college's academic assessment program.
Initial requirements for prospective PAS candidates include attainment of a bachelor's degree and suitable work experience or a master's or Ph.D. degree with less work experience. In addition to this, an exam must be passed for each area of expertise in which one desires certification.
Certification also required 16 hours of continuing education each year. Onan completes most of this requirement by attending scientific conferences.
Onan has worked in the sheep, goat and meat industries during his career in addition to being a sheep producer for 20 years. He holds a Ph.D. degree in meat science.
Concerning the future, Onan has one main goal. For the remainder of his career at UWRF he seeks to do the best job he can, teaching subjects like sheep production and meat science along with other classes.
"Keeping up with the continuing education requirement to maintain my PAS certification will keep me current with the newest research and techniques used in these production areas," said Onan.
The ARPAS Registry has standards to enhance professional credibility and increase public confidence by providing certification of animal scientists through examination, continuing education, and commitment to a code of ethics. ARPAS is affiliated with five professional societies: American Dairy Science Association, American Meat Science Association, American Society of Animal Science, Equine Science Society, and Poultry Science Association and with the umbrella and service organization FASS-The Federation of Animal Science Societies. For more information log on to ARPAS website at http://www.arpas.org.
-30-
Last updated: Thursday, 22-Apr-2010 16:08:08 Central Daylight Time