UW-RF Home > University Communications Home > This Month's News Releases
University Communications
For more information contact mark.a.kinders@uwrf.edu or brenda.k.bredahl@uwrf.edu.
Nemecek Named to International AACSB Board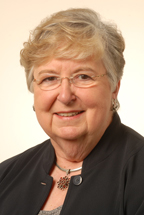 MARCH 30, 2007--Barbara Nemecek, dean of the of the University of Wisconsin-River Falls College of Business and Economics, has been elected to the Association to Advance Collegiate Schools of Business (AACSB) International Board of Directors.
"Barb's election to the AACSB Board of Directors is a meaningful honor and opportunity for her, our College of Business and Economics and for UWRF," UWRF Chancellor Don Betz said. "With more than 900 institutional members from many counties, AACSB is the premier business school accrediting agency."
Betz added that Nemecek's reputation among her peer business deans is confirmed by her selection to this term of service.
Nemecek said it is an honor to be elected to the board. Her three-year term on the 28-member board will begin on July 1, 2007.
Betz said that Nemecek will be in a position to accelerate UWRF contacts with other possible international partner institutions.
"Those contacts can produce intriguing opportunities for our faculty and for our students," Betz said. "We are all proud of Barb and her leadership of the College."
-30-
Last updated: Thursday, 22-Apr-2010 16:08:08 Central Daylight Time