UW-RF Home > University Communications Home > This Month's News Releases
University Communications
For more information contact mark.a.kinders@uwrf.edu or brenda.k.bredahl@uwrf.edu.
Student Raise Funds for Free Clinic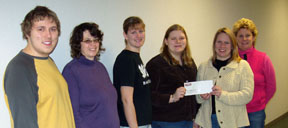 MARCH 23, 2007--University of Wisconsin-River Falls students raised $700 for the Free Clinic of Pierce and St. Croix Counties, set to open April 24.
Members of UWRF Student Support Services (SSS) Program raised money during fall semester through bake sales, coin jars and a spaghetti dinner and presented a check to Mary Conroy-Johnson, chairperson of the free clinic, and Jill Slaikeu, vice chairperson of the Free clinic on Feb. 27.
The SSS group felt that there was a need for its members to get involved and help the community, and said they chose the free clinic because members said they could relate to the need for health care for those without insurance.
The group met and exceeded its goal to raise $500 during fall semester, said Rose Rude, SSS advisor. Rude said she also very impressed with the enthusiasm and energy SSS students invested in the project, and the group's efforts also helped in raising awareness and garnering support for clinic among the campus community.
The mission of the Free Clinic of Pierce and St. Croix Counties is to provide primary health care and preventative health education for people with no health care alternative. The clinic opens on Tuesday, April 24 and will be open one night each week, serving 20-30 patients on a first-come, first-served basis. The clinic is located in Unit 2 of the River Falls Medical Clinic. Registration starts at 5 p.m. To qualify for care, patients must be uninsured and have a household income of 185 percent or less of the Federal Poverty Level.
UWRF SSS is an academic support program funded by a U.S. Department of Education TRIO Grant. SSS is designed to assist first-generation, low-income and/or students with disabilities to transition to college and graduate in a timely fashion. The program's goal is to increase graduation and retention rates of targeted students. SSS offers activities such as academic coaching, workshops, tutoring services, and service-learning projects.
-30-
Last updated: Thursday, 22-Apr-2010 16:08:07 Central Daylight Time