UW-RF Home > University Communications Home > This Month's News Releases
University Communications
For more information contact mark.a.kinders@uwrf.edu or brenda.k.bredahl@uwrf.edu.
Semester Abroad Group visits Iceland, Europe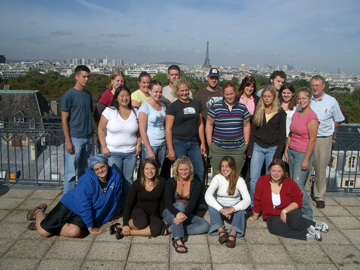 MARCH. 23, 2007--A few University of Wisconsin-River Falls students experienced somewhat of a reverse culture shock when they returned home after a 14-week trip to nine European countries as well as the unique, lava-locked island called Iceland.
Nineteen students recently reunited for the first time since they returned from their fall semester abroad in December. Now savvy, veteran world travelers, the group was noisy, raucous, filled with joy and laughter at the reunion.
"People will ask you, 'How was your trip?' but when you begin to answer, they seem to lose interest very quickly," said Dennis Cooper, the trip's group leader and professor in the animal and food science department. "This is normal. You have so much to tell them, but they are only interested in small doses. As time passes, they will listen to your whole story."
Several students chimed in to relate their experiences with reverse culture shock. They told of how resuming home and college life was both normal and weird at the same time. Observers at the meeting, however, understood what was happening.
"They have changed so much," said Magdalena Pala, a professor in the chemistry Department and co-director of the Semester Abroad: Europe program. "They have so much more maturity and confidence."
Kerry Keen, a professor in the plant and earth science department and future group leader, said the benefit of studying abroad for such a long time is one of being together as a community and also experiencing the global community at the same time. "They have so much positive energy, and they obviously enjoy being together. There really is a family feel to the group."
The Semester Abroad: Europe program has existed at UW-River Falls since 1963. Started by the late sociology Professor Robert Bailey while the university was on the quarter-term system, today's lengthened program focuses on independent study and research by students in a European country for the semester's duration.
Participants begin preparing during spring semester of the previous year. They attended a weekly seminar during the semester to learn about living, traveling and working in Europe.
Then they identify and develop a study project to conduct when they arrive in Europe at the start of fall semester. Working with faculty from their chosen fields of study, the students come up with ideas for projects and develop contacts in a European country of their choice, where they will conduct their projects.
For example, Kyle Taysom, a dairy science major from Arcadia, Wis., worked with Professor Paolo Berzaghi at the University of Padova in Italy to develop on-farm methods of analyzing nutrient content of forages using near infra-red spectroscopy (NIRS). Taysom got in contact with Bergzaghi through Dairyland Labs, a Wisconsin-based forage testing business. Taysom's UWRF project advisor is Gary Onan, a professor in the animal and food fcience department.
Angela Young, an art major from Merrill, Wis., studied lithography and printmaking at a studio in Edinburgh, Scotland. She also traveled to the Netherlands and Germany to study the works of three famous printmakers: Rembrandt, Kathe Kollwitz, and Albrecht Durer. Young's UWRF project advisor is Lynn Jermal, a professor in the art department.
The group selected a total of nine countries in which to work on their projects. Afterward, during the last month of the semester, the students had the opportunity to travel around Europe at their own discretion. Some traveled alone; others traveled together or were joined by friends or relatives from home.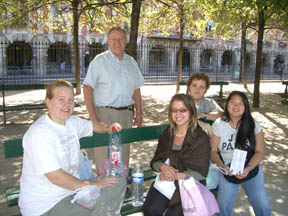 Cooper accompanied the group to Europe and remained there throughout the semester, meeting with each student individually at their project sites and with the group at the beginning, middle and end of the semester.
"Semester Abroad: Europe is one of the best ways for CAFES students to participate in an international program at UWRF," said Cooper. "Other semester-long programs at UWRF, such Wisconsin in Scotland or the International Traveling Classroom, are great, but have a more interdisciplinary focus. SAE allows students to work within their majors."
According to Cooper, however, not all students will prefer the self-directed SAE experience and may seek more structure in a global education program. "This program requires students who are adventurous, self-reliant, responsible, disciplined and dependable," he said. "This is a very unstructured program, so students need to be able to perform independently."
Students should also be interested in, and open to, experiencing other cultures and countries, and they should be interested and curious about some in-depth aspect of their major field of study.
The 2007 group of students who will spend next fall semester in Europe has started meeting in Chalmer Davee Library. Brad Gee, the library's head of reference and instruction, Cooper's assistant group leader in 2006 and currently co-director of the SAE program, will lead the 2007 group.
And Cooper's distinction as being the only CAFES professor ever to lead a group will be short-lived. The next two group leaders after Gee will be Keen and Ian Williams, a professor in the plant and earth science department.
According to Cooper, more UWRF students should look into the opportunities offered by the SAE program.
"It's one of the most profound, unique, and exciting educational experiences a student can get anywhere. Students owe it to themselves to consider taking advantage of this tremendous opportunity."
-30-
Above, left: Picnic in Paris, L to R: Anna Jacob, Semester Abroad Advisor Dennis Cooper, Shayna Hall, Noah Kurth and GaoShue Moua.
-30-
Last updated: Thursday, 22-Apr-2010 16:08:06 Central Daylight Time