UW-RF Home > University Communications Home > This Month's News Releases
University Communications
For more information contact mark.a.kinders@uwrf.edu or brenda.k.bredahl@uwrf.edu.
UWRF Students Sweep Awards at Res Life Conference
By Lisa Stratton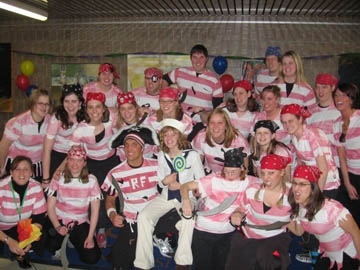 MARCH 23, 2007--Some 25 students from the University of Wisconsin - River Falls attended the annual Wisconsin University Residence Hall Association (WURHA) conference on Feb.16-18, taking home numerous awards and honors.
WURHA, held this year in Menomonie, Wis., serves to provide communication and leadership training to students active in university residence halls. The event also highlights achievements made by both students and their schools during the previous year.
The group from UWRF was recognized many times for their accomplishments. One of the awards received was Small School of the Year.
"The award is given to a school that has made significant impact on their campus community and student life area," says Kristie Feist, area coordinator for UWRF Residence Life, and advisor to the attendees. "Also, because of the enthusiasm and dedication the delegation showed before and during the conference, they received the Small School Spirit Award."
The WURHA convention also gives students a chance to share their unique residence hall programs to their peers. Six student groups from UWRF gave program seminars. Sara Schilling, a sophomore from West Bend, Wis., and Jeff Parker, a senior from Eagan, Minn., presented a program called "World of Icebreakers."
"The purpose was to get students to interact with each other and feel comfortable with each other when they first meet," says Parker. "In my opinion, the most crucial part of being in a group is when you first meet, so that is why Sara and I chose to focus on this."
Both the "World of Icebreakers" and another program, "Lean on Me," by Mark Klapatch, a sophomore from Green Bay, Wis., and Samantha Larson, a freshman from Hastings, Minn., won Top Ten awards for excellence.
"Receiving a Top Ten award was really great," Parker says. "For me, the most rewarding part was the fact that the Top Ten programs are decided by the participants of your session."
This year's conference included a can-tab drive for the Ronald McDonald House. UWRF's substantial contribution of more than 400,000 pop tabs was the largest of any school, and the group was given the WURHA Philanthropy Award.
On April 20-22, UWRF will be hosting the WURHA's associated French Dip conference for the first time.
"The purpose of this conference is to conduct business meetings and elections for the governing body of WURHA in preparation of the upcoming year," says Feist.
Students who attended WURHA include: Carissa Williams, Suamico, Wis.; Jen Schofield, St. Paul, Minn.; Shelby Rubbelke, Oakdale, Minn.; Tanya Hartwig, Champlin, Minn.; Katie Bollig, Big Lake, Minn.; Anna Hunter, Minnetrista, Minn.; Jeff Parker, Eagan, Minn., Mark Klapatch, Green Bay, Wis.; Brittany Johnson, Lakeville, Minn.; Sara Schilling, West Bend, Wis.; Cathy Polnaszek, Andover, Minn.; Samantha Larson, Hastings, Minn.; Amy Wickenhauser, New Richmond, Wis.; Alissa Baker, Wyoming, Minn.; Laurie Cicchese, St. Paul, Minn.; Becca Peine, Cannon Falls, Minn.; Josh Godfrey, Hayward, Wis.; Candy Sunderland, Wisconsin Rapids, Wis.; Jess Wendorf, Hartford, Wis.; Jeff Ginter, White Bear Lake, Minn.; Megan Lieffring, Cloquet, Minn.; Jordan Liethen, Birnamwood, Wis.; Kayla Haines, Marine On Saint Croix, Minn.; and Hannah Hennemuth, Wrenshall, Minn.
-30-
PHOTO CAPTION: UWRF students pose after a sweet performance to "The Good Ship Lollipop," "Tootsie Roll," and "Shake your Bon Bon" during WURHA's Roll Call. Front, L to R: Advisor Kristie Feist, Amy Wickenhauser, Jeff Ginter, Anna Hunter, Candi Sunderland, Brittany Johnson, Cathy Polnaszek. Middle, L to R: Becca Peine, Kayla Haines, Jen Schofield, Laurie Cicchese, Samantha Larson, Carissa Williams, Tanya Hartwig, Megan Lieffring, Sara Schilling, Katie Bollig, Mark Klapatch, Shelby Rubbelke. Back, L to R: Alissa Baker, Jordan Liethen, Jeff Parker, Josh Godfrey and Hannah Hennemuth.
-30-
Last updated: Thursday, 22-Apr-2010 16:08:06 Central Daylight Time