UW-RF Home > University Communications Home > This Month's News Releases
University Communications
For more information contact mark.a.kinders@uwrf.edu or brenda.k.bredahl@uwrf.edu.
The Ride to Inspire Student Engagement Calls for Workshop Participants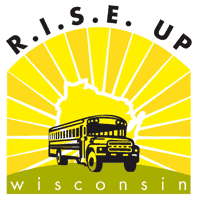 MARCH 23, 2007--Wisconsin youth and educators have an opportunity to participate in a free conference about service-learning as part of the Ride to Inspire Student Engagement (R.I.S.E. Up) tour, traversing the state April 22 to 28.
Traveling in a big yellow school bus, 20 AmeriCorps members, who have formed R.I.S.E. Up, will host a celebration at five cities statewide April 22-28 that will highlight the inspiring work of active youth and empower young people to work for change, become involved in their communities and make their voices heard.
The R.I.S.E. Up bus will stop at 9 a.m. on Thursday, April 26 in River Falls to host a day of speakers workshops, a share fair and provide communities with a forum to discuss new projects. By the end of the day, participants will have the seeds to start a new educational service project with the assistance of service-learning project coordinators from universities, technical colleges and public schools.
Speaking are Mila Holocombe, a VISTA volunteer working with Special Olympics and Kelly Cain, a UWRF professor of plant and earth science who has conducted several service-learning classes within the St.Croix Valley.
Holocombe started her volunteer career with the Special Olympics 14 years ago as a student and has grown into more responsibility with the organization.
Cain, who specializes in sustainability-based planning and management, has more than 21 years of experience of incorporating service projects successfully into his courses.
Following the speakers are hands-on workshops designed to jump-start relevant and successful service projects. Participants will be shown:
The fundamentals to a service project
How to perform a community asset map
How to conduct a community needs assessment
Wisconsin Department of Public Instruction's WAVE model of service-learning.
To enhance the workshops, area nonprofits and groups with successful service-learning projects will be on hand at the share fair. Approximately 150 participants will be able to meet with 14 to 16 groups representing various and successful service projects and social issues to discuss new projects, investigate the real needs in the region and network.
Guests include Northern Waters Literacy, who will share their programs working with individuals with low English language proficiency, and students from New Richmond High School, who will demonstrate their expanding service-learning projects.
For more information about the tour and to register for the conference, visit http://www.riseupwisc.org or contact Aaron Gilbee, R.I.S.E. Up Northwest region contact, at 715-425-3744 or aaron.gilbee@uwrf.edu . Registration for the conference is requested by March 30.
R.I.S.E. Up is sponsored by the Department of Public Instruction, Serve Wisconsin, Wisconsin Campus Compact, AmeriCorps*VISTA project, UW-Extension, State Farm, and the Special Olympics.
-30-
-30-
Last updated: Thursday, 22-Apr-2010 16:08:06 Central Daylight Time