UW-RF Home > University Communications Home > This Month's News Releases
University Communications
For more information contact mark.a.kinders@uwrf.edu or brenda.k.bredahl@uwrf.edu.
UWRF Names New Directors of Facilities and Public Safety
By Samantha Wenwoi
MARCH 23, 2007--UW-River Falls has named two key administrators to direct its facilities and to oversee public safety.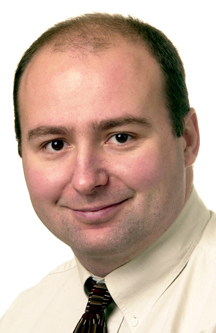 Michael Stifter (left) has been named as the new director of campus facilities. He had been serving UWRF as its director of student life facilities. Former Hudson Police Chief Richard Trende (right) has been named director of public safety after having served as the interim director since November.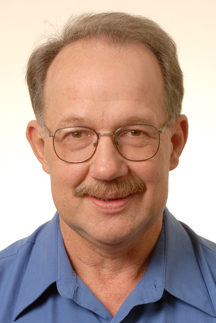 Trende brings exceptional experience to his permanent position, said Mary Halada, vice chancellor for administration and finance.
"Dick is well known within the broader community and has a long-standing relationship with members of the River Falls Police Department. He has made a relatively easy transition to campus life and we are pleased to welcome him aboard. We are pleased to have an individual with such broad experience on the University team."
In addition to directing the Public Safety Department, Trende's responsibilities will include overseeing campus parking and developing crime prevention, personal safety and security awareness education programs.
Trende, who has more than 30 years of law enforcement experience, said he believes in the importance of providing quality service to the UWRF campus. "I'm a strong advocate that Public Safety is a customer service provider. My objective is to provide a positive service to the University and a positive environment for the employees."
Updating the department policy manual and ensuring that Public Safety staff and officers receive training in areas such as crime prevention and legal decisions are among some of the initiatives Trende has spearheaded since he arrived on campus in November. "The objective is to assess what we're doing and find out if there is a necessity for a better way of providing services."
Trende praised the UWRF community, citing its friendliness as the reason why he chose to take the directorship indefinitely. "I really have enjoyed the environment and the people. I think that the University is excellent and high-quality."
He also has kind words for his staff. "The employees that I've met here are just fantastic. It was exciting to come into an environment with a good staff. The ability to work with them makes it very positive."
A graduate of Southwest Minnesota State University in Marshall, Minn., Trende retired from active duty in Hudson in 2006. He makes his home in Hudson with his wife Char, who works for the Washington County (Minn.) District Attorney Office. They have three children and two grandchildren.
He replaces Mark Kimball, who retired in December.
Facilities Director Stifter will exchange his office in the centrally situated University Center for one a little further away from the action, in the Central Stores and Maintenance building located on the east area of campus. Stifter replaces Waldo Hagen, who retired in January. His position becomes effective April 1.
With 15 years of student affairs experience, Stifter said that the prospect of serving students in a different capacity was too good to pass up. "I saw this as an opportunity in that it keeps me on campus. It's also kind of a new challenge."
The job change adds more responsibilities to the eight-year UWRF employee's plate. Instead of being in charge of residence hall and University Center operations solely, Stifter now has to make sure that the entire UWRF campus is properly maintained.
As facilities director, Stifter will oversee a staff of nearly 100 employees. He will be responsible for directing facilities management functions such as building maintenance, central heating plant operations and custodial services on the 225-acre main campus, as well on the two university-owned laboratory farms.
However, he is undaunted by the increased workload and said he is up to the challenge. "I'm charged up. I'm ready to go. I'm excited by the chance to work with the strategic planning process, sustainability efforts and also building relationships within our campus and off of campus."
Halada commended Stifter and the employees in his new department.
"I am excited to have Mike on board. He will lead a loyal and dedicated staff. We look forward to Mike's leadership style and expect collaboration from across the campus as we strive to improve our facilities."
A graduate of Minnesota State Moorhead and Colorado State universities, Stifter first arrived on the UWRF campus in 1999 as an area coordinator. He assumed the mantle of director of student life facilities in 2004. Stifter resides in River Falls with his wife Tammy, an in-home day-care provider, and their two children.
-30-
Last updated: Thursday, 22-Apr-2010 16:08:05 Central Daylight Time