UW-RF Home > University Communications Home > This Month's News Releases
University Communications
For more information contact mark.a.kinders@uwrf.edu or brenda.k.bredahl@uwrf.edu.
College of Business and Economics Establishes Links with Global Educators
By Brian Hogenson
[related story]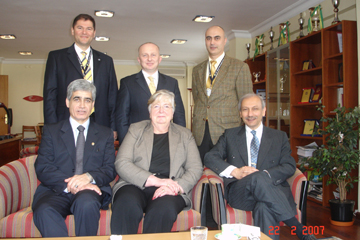 MARCH 19, 2007--Three faculty members from the College of Business and Economics recently embarked on a trans-Atlantic trip in order to develop working partnerships with educational institutions in United Arab Emirates, Kingdom of Bahrain, Turkey, and Denmark.
CBE Dean Barbara Nemecek, business administration professor Ozcan Kilic, and finance professor Reza Rahgozar reached memorandums of agreement with the educational institutions that will open the door for student exchanges, and joint research projects in the future.
"I am very pleased with the continuing internationalization of opportunities here at UWRF for both faculty and students," UWRF Chancellor Don Betz said. "The contacts confirmed by Dean Nemecek and professors Kilic and Rahgozer will prove to be most useful to use as we continue to meet our objective of internationalizing learning so our graduates will be productive, creative and effective in a global knowledge economy."
Nemecek said that the memorandums of agreement and future cooperation with these institutions are "part of a bigger strategy to internationalize the curriculum of the college."
"We're making sure that we have program-related activities from these different parts of the world," she said.
The institutions that the CBE reached memorandums of agreement with are the University of Southern Denmark, Dokuz Eylul University (Izmur, Turkey), Istanbul University, Istanbul Kultur University, Ahlia University (Kingdom of Bahrain) and Zayed University (Dubai, United Arab Emirates).
Kilic said that the opportunities the agreements will make possible in the future will directly benefit students.
"It will open up opportunities for students to become more involved with international business," he said.
The agreement with Zayed University in Dubai, United Arab Emirates could pave the way for students to gain valuable experience in a city that is experiencing a large amount of growth, both in population and economics as it becomes a financial center in the Middle East.
The travel among faculty will be reciprocal, as the dean of Istanbul University will visit UWRF in April, followed by the director of international programs at Southern Denmark University in May.
-30-
Photo, Above: Front row, L to r: UWRF Professor Reza Rahgozar, UWRF CBE Dean Barbara Nemecek, and Dr. Mehmet Kukru Tekbas, dean and professor of business administration, Istanbul University. Back row, L to R: Dr. Fatih Yilmaz, associate dean, Istanbul University, UWRF Professor Ozcan Kilic and Dr.Yakup Selvi, associate professor of accounting, Istanbul University.
-30-
Last updated: Thursday, 22-Apr-2010 16:08:05 Central Daylight Time