UW-RF Home > University Communications Home > This Month's News Releases
University Communications
For more information contact mark.a.kinders@uwrf.edu or brenda.k.bredahl@uwrf.edu.
UWRF International Programs Open Doors to the World
By Brian Hogenson
[related story]
MARCH 19, 2007--Inspired by Chancellor Donald Betz' passion for campus globalization and the fact that the world is increasingly "flat," the University of Wisconsin-River Falls is setting goals that will make the university one of the nation's top destinations for global learning.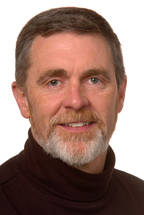 "We're at exciting crossroads, and we have a chancellor who is very passionate about globalization for this campus," Brent Greene, director of international programs, said.
One of the goals for the university is for five percent of the students on campus to be international students, Green says. Currently one percent of the UWRF student body is composed of international students, with the national average at four percent.
Another goal is for 50 percent of UWRF students to have an international experience during their time at the university. Greene said the current rate of international experience for UWRF students is in the eight to 12 percent range.
"It would be a quantum leap from where we are now, " Greene said. "But it's a wonderful goal, and I say let's go for it."
The types of goals and initiatives are supported by Open Doors, an annual report on international academic mobility published by the Institute of International Education (IIE) with support of from the U.S. Department of State's Bureau of Educational and Cultural Affairs. Each year, Open Doors provide a snapshot of where U.S. universities stand when it comes to international education.
"UWRF tends to trend with Open Doors," said Katherine Oenga, coordinator of International Programs Services at UWRF. "The biggest thing is not only getting students here, but giving them support when they are here," Oenga said.
Greene notes that it will probably require more staff and resources for the Office of International Programs to make the university's goals a reality.
Open Doors 2006 showed that California is the top host state for international students, followed by New York.
Greene said for UWRF to attract more international students and increase opportunities to study abroad, it would need to "develop more agreements with foreign institutions.".
An example of these agreements are the memorandums of understanding Chancellor Betz and other administered signed with three Indian universities as well as a recent international trip by the College of Business and Economics, opening up opportunities for international exchanges between faculty, staff and students.
Oenga said Betz' work with India has helped as UWRF hosted two Indian students during fall semester, with two more arriving for spring semester.
"India is a hot market," Greene said. "To attract Indian students and set up extension campuses will have a huge impact."
The two most popular fields for international students, according to Open Doors 2006, were business and management. Greene said the impending accreditation of the College of Business and Economics at UWRF would be a helpful tool in attracting international students.
"Accreditation carries a lot of weight," Greene said. "Going home with a degree in business from an accredited U.S. university means more money and more jobs fpr them."
Greene said that in encouraging students to study abroad and gain international experience, it is critical for students to have an understanding that globalization does have an effect on them and does matter.
"The globalization train is coming and students should get excited and ready to jump on the ride," Greene said.
-30-
Last updated: Thursday, 22-Apr-2010 16:08:05 Central Daylight Time