UW-RF Home > University Communications Home > This Month's News Releases
University Communications
For more information contact mark.a.kinders@uwrf.edu or brenda.k.bredahl@uwrf.edu.
Student Athletes Collect 'Soles for Souls'
By Lisa Stratton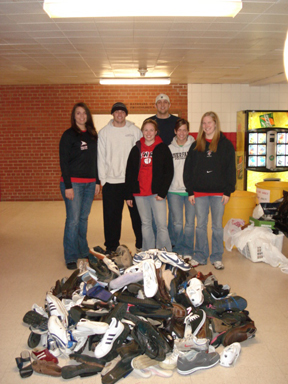 MARCH 12, 2007--The 'Soles for Souls' drive at the University of Wisconsin - River Falls wrapped up Feb. 23, collecting more than 300 pairs of new or slightly used shoes to donate to the Salvation Army.
Organized by the Student Athletic Advisory Committee (SAAC), the campaign is held annually from December to February. This year, students, faculty staff, and community members donated various types of shoes in collection boxes at Karges Center and the Hunt/Knowles Complex.
This year's efforts showed a marked advancement over last year's event, which raised 170 pairs of shoes.
"I think campus and the community did a great job of donating their shoes this year," says Charles Sowa, president of the SAAC and a junior from Rochester, Minn. "Each year that I have been here I have seen the generosity of this town and community, and I think Soles for Souls could not have gone any better."
SAAC, an organization whose mission is to connect student-athletes with the community, also coordinates Trick or Treat for Canned Goods, a yearly event to collect non-perishables for local food shelves each October.
"We ask a lot of our campus and community through support and attendance at our games," says Sowa. "We need to give that support back to the community."
Photo, above: Members of SAAC begin to count the donated shoes. L to R: Krista Hasselquist, Osceola, Wis.; Connor Graves, Grantsburg, Wis.; Drew Hample, Mahtomedi, Minn.; Tracy Olson, Rosemount, Minn.; Charles Sowa, Rochester, Minn.; Julie Sperstad, Eau Claire, Wis.
-30-
Last updated: Thursday, 22-Apr-2010 16:08:03 Central Daylight Time