UW-RF Home > University Communications Home > This Month's News Releases
University Communications
For more information contact mark.a.kinders@uwrf.edu or brenda.k.bredahl@uwrf.edu.
Entries Sought for the 'Ride to Inspire Student Engagement' Essay Contest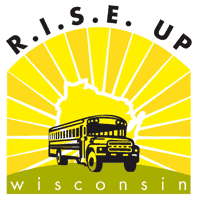 MARCH 12, 2007--Wisconsin students will have an opportunity to participate in a statewide essay contest about civic engagement as part of the Ride to Inspire Student Engagement (R.I.S.E. Up) tour, traversing the state in April.
Traveling in a big yellow school bus, 20 AmeriCorps Volunteers in Service to America, who have created R.I.S.E. Up to celebrate youth and civic engagement, will host events at five sites statewide April 22-28 that will highlight the inspiring work of active youth and empower young people to work for change, become involved in their communities and make their voices heard. R.I.S.E. Up will stop on April 26 in River Falls to host workshops, a share fair and provide communities with a forum to discuss new projects.
The essay contest seeks the experiences from youth about a community service project tied to a class. Examples include tutoring as a part of algebra, building a home for Habitat for Humanity for a carpentry class, conducting presentations to raise funds for Hurricane Katrina victims, or writing letters to the elderly for Christmas. The project can take many forms, but results in an academic experience at the end of the project.
The essay should include a brief description of the service-learning project (who, what, where, when), how the project was coordinated and focus on the personal and community benefits gained from the experience. The contest has four categories: K-5th grade, 6th-8th grade, 9th-12th grade and college level. All essays will be compiled into a booklet and distributed around the state.
In each category, authors of the essays that best demonstrate how the project impacted their communities and the participants will receive:
· statewide recognition in publications with R.I.S.E. Up Wisconsin
· an invitation to the state Capitol to present their story
· an opportunity to interview for the R.I.S.E Up Wisconsin Documentary, which will be distributed widely
Deadline for submission is April 15 to story@riseupwisc.org. Essays should be should be double-spaced and one to two pages in length. Entries should use correct grammar and punctuation, emphasize personal experience and include author(s) name, education level, school address and e-mail.
For more information about the essay, the tour and the conference, visit http://www.riseupwisc.org or contact Aaron Gilbee at (715) 425-3744 or aaron.gilbee@uwrf.edu.
-30-
Last updated: Thursday, 22-Apr-2010 16:08:03 Central Daylight Time