UW-RF Home > University Communications Home > This Month's News Releases
University Communications
For more information contact mark.a.kinders@uwrf.edu or brenda.k.bredahl@uwrf.edu.
Faculty Member Produces Czech Plays
By Meghan Dusek
FEB. 23, 2007--In conjunction with the Lex-Ham Community Theatre company, University of Wisconsin-River Falls English Professor Marshall Toman is producing two Czech plays through Czech and Slovak Cultural Center in St. Paul.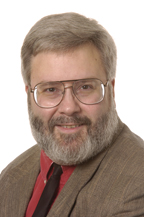 Václav Havel's "Motomorphosis" and Pavel Kohout's "Fire in the Basement will be performed together at the historic Sokol Hall in St. Paul on March 9-10 at 7:30 p.m., and on Sunday, March 11 at 2 p.m. Tickets are $15, $10 for firefighters and those over age 60, and $5 for students.
Toman says that the Upper Midwest is a perfect venue for the productions. "There's so much theater in this area, more than anywhere between the coasts," says Toman. "We are an example of that in River Falls with the One Act Dessert Theatre, the University Theatre, the St. Croix Valley Summer Theatre, the River Falls Community Theatre and St. Croix Off Broadway. And then there's the Twin Cities."
Along with a strong theatre tradition, the metro area fosters an active Czech community through the Cesko-Slovansky Podporující Spolek (or CSPS) Center, the oldest Czech-Slovak center in the United States. The center hosts a monthly Czech book club called Literary Ventures Book Discussion, which, after a reading of one of Havel's plays, sparked the idea for the productions, says Toman.
A Czech playwright, Communist dissident, and a former president of Czechoslovakia-cum-Czech Republic, Havel wrote "Motomorphosis" as a reference to Franz Kafka's famous work, "The Metamorphosis," where Gregor Samsa awoke one morning to find that he had been transformed into a giant insect. Havel's characters, however, turn into automobiles. Set in the 1960s when Czechs were "car-crazy," Toman says the humorous, satiric skit provides a window into Communist culture of that era.
The second feature, Kohout's "Fire in the Basement," is set after the fall of Communism in the early 1990s. It presents fire fighters as scam artists who intrude into the honeymoon setting of a couple. This satirical comedy addresses the confusion of a time when a new economic system replaces the old, and no one knows who to trust.
Another book club member suggested that the St. Paul-based Lex-Ham Community Theatre Company could bring life to the plays. "A major part of Lex-Ham's core mission is to help build community through the arts," said Lex-Ham producer Urban Landreman. "It's a joy for us to partner with the Czech and Slovak Cultural Center since it also sees how people can be brought together and how communities can be strengthened by involvement with high quality arts activities."
Toman's interest in all things Czech fueled his desire to spend a year teaching in the Czech Republic. He then continued his interest by joining the Czech book club in St. Paul. He was elected to the Czech and Slovak Cultural Center Board, and then wound up wearing another hat: theater producers.
Volunteers will be producing unique Czech and Slovak delicacies and other homemade treats for purchase, and Czech beer will also be available an hour before the performances. The Sokol Hall is located at 381 Michigan St., at the crossing of St. Clair and West Seventh streets about a mile from downtown St. Paul and the Xcel Energy Center.
For more information on the performances, contact Marshall Toman at 715-425-3537.
-30-
Last updated: Thursday, 22-Apr-2010 16:08:01 Central Daylight Time