UW-RF Home > University Communications Home > This Month's News Releases
University Communications
For more information contact mark.a.kinders@uwrf.edu or brenda.k.bredahl@uwrf.edu.
UWRF Realigns Administrative Positions
By Samantha Wenwoi
[spring meeting audio]
FEB. 23, 2007--The beginning of a new calendar year also signals an administrative reorganization at the University of Wisconsin-River Falls.
The new configuration "will better position UWRF to meet the challenges of serving its numerous and diverse constituencies," according to Chancellor Don Betz. The changes were announced Jan. 29 at the spring semester 2007 opening meeting.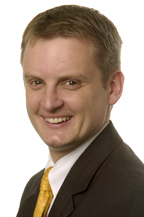 Blake Fry has been named as special assistant to the chancellor, and replaces Suzanne Hagen, who has returned to teaching in the speech communication and theatre arts department. Fry previously was the dean of student development and campus diversity, and that position is now being restructured.
Fry said his new job is a better fit with his professional goals. "I would eventually like to serve as a university chancellor or president," he said. The special assistant said his duties will give him some much-needed practical experience.
"Many view the special assistant position as a professional apprenticeship for aspiring chancellors," he said. Fry will oversee diversity and inclusiveness initiatives, emergency planning and the American Democracy Project. "I have amassed a great deal of experience, and hopefully expertise, in all three of those areas during my career."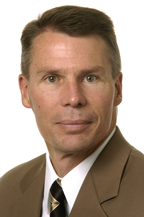 The area of student affairs is in the process of merging into a single unit, with Gregg Heinselman at the helm. Heinselman has also received a new job title: associate vice chancellor for student affairs.
Heinselman has acquired oversight of health and counseling services, judicial affairs and multicultural affairs with his new title. He said he feels the merger will better serve UWRF students.
"It allows us to be more of a one-stop shop," Heinselman said. "I think it's much more efficient and it aligns departments better than they were connected previously."
He said he hopes to build strong connections between all of the divisions under his jurisdiction. "Seeing the common value in understanding the relationships that could be developed, I think, will be a key part to my position. Then we will deliver those services to students to maximize a healthy, positive, constructive, inclusive environment."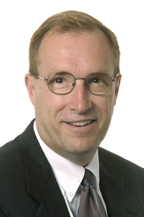 Enrollment services has also been consolidated into a single division, bringing together admissions, financial assistance and the registrar's office led by Alan Tuchtenhagen. Tuchtenhagen's job title was changed to associate vice chancellor for enrollment services.
Tuchtenhagen said the consolidation brings UWRF up to speed with other colleges and universities nationwide. "We're reorganizing enrollment services more along the line of how they look nationally," he said.
Tuchtenhagen said student retention remains a priority. "Enrollment isn't just bringing in more new students; it's providing all the services that help students stay here once they get here," he said. "Our goal is to make sure that every student who wants to stay here has every opportunity to stay here."
Eventually all of those services will be consolidated physically into the former student center, which has been renamed Hagestad Hall.
A new position, assistant vice chancellor for academic affairs, has been created. The position, which will report directly to Provost Charlie Hurt, is responsible for coordinating the academic success center and career services, among other administrative duties. There is currently an internal search to fill this job.
-30-
Last updated: Thursday, 22-Apr-2010 16:08:00 Central Daylight Time