UW-RF Home > University Communications Home > This Month's News Releases
University Communications
For more information contact mark.a.kinders@uwrf.edu or brenda.k.bredahl@uwrf.edu.
Prof Presents at Midwestern Conference
By Kendra Knutson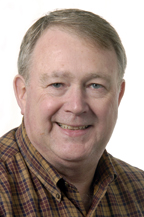 FEB. 19. 2007--A University of Wisconsin-River Falls-College of Agriculture, Food and Environmental Sciences (UWRF-CAFES) professor presented several different tactics on improving employee motivation while serving as a guest speaker at a recent Midwestern symposium.
Dennis Cooper, a professor in the department of animal and food science and a dairy extension specialist, shared his expertise to 250 agriculturalists at the annual joint meeting of the Midwest Custom Operators, Professional Nutrient Applicators Association of Wisconsin and the Midwest Forage Council held in Wisconsin Dells, Jan. 30-31.
Members of the UW Cooperative Extension Service who invited Cooper to speak included Brian Holmes of UW-Madison of and Jerry Clark, UW Extension Chippewa County.
Cooper began his presentation sharing his past experiences in people management skills as a Marine officer, feed company manager, university professor, extension specialist and parent. His presentation, "Four Ways to Improve Employee Motivation," examined four techniques that are fundamental for employers trying to hire and maintain motivated employees.
According to Cooper, employers must first hire motivated people and offer job quality that is competitive to other businesses. In addition, they must create an environment that encourages workers to gain similarly qualified workers and improve the supervisory skills of employers to improve interactions with employees.
"Motivation is an intrinsic personal characteristic rather than an increased desire from a pep talk, material reward, or some other factor supplied by the employer," said Cooper. "Yet the role of the employer is all-important in attracting and retaining motivated employees."
According to Cooper, in order to possess a greater desire to achieve things in the workplace, employers should take into consideration the four techniques. Employers should be sure they provide competitive pay and fringe benefits along with required work hours that are reasonable. Moreover, employees should also have ample time off, said Cooper. When it comes to unpleasant, boring tasks it is best to split the work among a group of people or distribute it over a longer period of time.
"Provide an environment that encourages motivated people to find satisfaction through work," said Cooper. "This means involvement, achievement, recognition, responsibility, and growth." He gave several examples of how to do this including timely meetings to let employees know what is going on, frequent informal feedback to let employees know how they are doing and where they stand, giving public and private praise for doing a good job, allowing employees more discretion in how they accomplish results, giving employees more responsibility, authority, and accountability on workplace decisions, and providing training and educational opportunities for workers to improve their knowledge and skills.
The presentation was designed to help agricultural employers in their workforce development efforts. Cooper said that motivated employees want to do an excellent job and therefore they express this through their behavior and actions. Cooper also provided an overview of motivational theory as well as demonstrated practical application of his four key points.
-30-
Last updated: Thursday, 22-Apr-2010 16:07:59 Central Daylight Time