UW-RF Home > University Communications Home > This Month's News Releases
University Communications
For more information contact mark.a.kinders@uwrf.edu or brenda.k.bredahl@uwrf.edu.
UWRF Group Spends Semester in Europe
By Meghan Dusek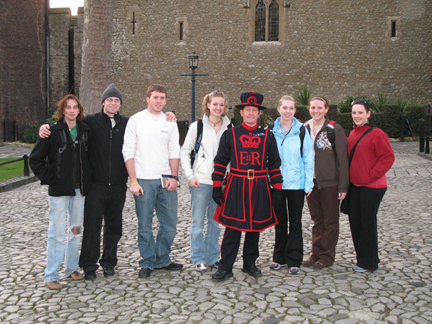 FEB. 19, 2007--Thirty-five University of Wisconsin-River Falls students are currently taking their classroom on the road around Europe through the International Traveling Classroom (ITC), led this semester by psychology Professor Rik Seefeldt.
This is the second year that UWRF students have traversed Europe in the ITC format. "The ITC allows students to use Europe as a classroom; rather than have a faculty member lecture to the students about the significance of a particular place in class, the students can experience that place directly," says program coordinator and UWRF geography Professor Charles Rader. "The benefits of a travel abroad experience for students, such as the ITC, are numerous."
The group's itinerary includes stops in London, Athens, Amsterdam, Paris, and Vienna. Visiting one of Great Britain's most popular sites, the Tower of London, were (L-R): Logan Spindler (senior marketing communications major from River Falls, Wis.), Jason Usher (sophomore psychology major from Eden Prairie, Minn.), Neil Bland (junior biology major from Oakdale, Minn.), Julie Markfort (sophomore pre-major from Somerset, Wis.), Beefeater, the colloquial name of the Yeomen Warders, the guards of Tower of London, Rachael Berg (senior psychology major from Maple Grove, Minn.), and Rebecca Sullivan (senior psychology major from St. Paul, Minn.).
"First and foremost, the experience with other cultures and people not only teaches them about those cultures, but in doing so students learn a lot about themselves, what it means to be an American, and a great deal about the United States as well," says Rader.
"Second, students mature and develop a great deal of self-reliance through the program. They learn communication skills, travel skills and many practical problem-solving techniques.
"Third, it sparks an interest and knowledge of the wider world that is important for them as global citizens and develops skills that many employers have identified as important for competing in the global economy."
The 2008 itinerary tentatively includes London, Paris, Madrid, Verona, Prague, and Berlin. The designated group size is slightly smaller--30--and spaces are already being filled.
For more information, see the program Web site at http://www.uwrf.edu/itc/ or e-mail Rader at charles.p.rader@uwrf.edu .
-30-
Last updated: Thursday, 22-Apr-2010 16:07:59 Central Daylight Time