UW-RF Home > University Communications Home > This Month's News Releases
University Communications
For more information contact mark.a.kinders@uwrf.edu or brenda.k.bredahl@uwrf.edu.
U Theatre Production Features Local Flavor
By Meghan Dusek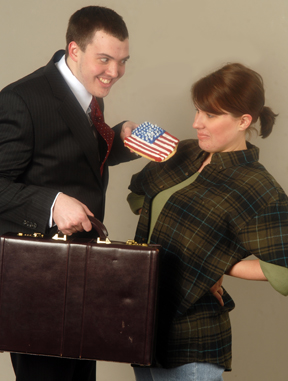 FEB. 9, 2007-- Local flavor shines through in the upcoming UW-River Falls Theatre production "God of Hell," written by former part-time River Falls resident and Pulitzer-prize winning playwright Sam Shepard.
"As a scholar and a director it was always amazing to me going down to South Fork Café and see him [Shepard] sitting there just having lunch with his farming buddies," says director and speech professor Jim Zimmerman. "The show is a direct result of how River Falls and this area affected him."
Set in western Wisconsin, the play presents a satirical view on our post-9/11 world and its effects on a simple couple--Frank and Emma--who want nothing more than to feed the heifers and water the plants.
In the voice of Wisconsin dairy wife Emma, Shepard writes, "Wisconsin is the perfect getaway. Nothing ever happens here. People have been coming here for a hundred years because nothing ever happens. Every once in a while someone falls through the ice or gets beheaded on a snowmobile, but other than that..."
Zimmerman cites the comedy in the play as one of reasons for pursuing its production: "I did it because it's funny...I think audiences will enjoy the humor, the local feel, and the topical issues."
The cast includes: John McConville, of Hudson, Wis., as Frank; Al Broeffle, of Cloquet, Minn. as Welch (above, left); Dana Clausen, River Falls, Wis. as Emma (above, right); and Ben Tatro, Stillwater, Minn. as Haynes.
The play runs from Feb. 22-24 and March 1-3, and all performances are at 7:30 p.m. in the Blanche Davis Theatre of Kleinpell Fine Arts. Tickets are $7, with a student and senior discounted price of $4. For more information or season ticket information contact the university box office at 715-425-3114 or 800-228-5423 or visit www.uwrf.edu/scta . Box office opens one week before first performance 10 a.m.-3 p.m. Mon.-Fri. and one hour before each performance.
-30-
Last updated: Thursday, 22-Apr-2010 16:07:59 Central Daylight Time