UW-RF Home > University Communications Home > This Month's News Releases
University Communications
For more information contact mark.a.kinders@uwrf.edu or brenda.k.bredahl@uwrf.edu.
UWRF Alumna and Benefactor Receives Wisconsin Music Award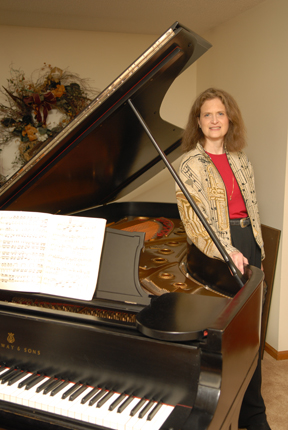 FEB. 9, 2007--A University of Wisconsin-River Falls alumna, former board member of Jerome Foods and scholarship benefactor received an award from the Wisconsin Music Educators Association at the Barron Federated Music Club's "Parade of American Music," a scholarship fundraiser, at the Barron (Wis.) High School Feb. 11.
Mary Ella Jerome, of Barron, Wis., is the recipient of the 2006 WMEA Community Service Award at the WMEA conference held in Madison last fall for her sustained support and commitment to music education throughout the state and beyond.
WMEA president Ken Liske, who is a music professor at UW-Oshkosh, presented Jerome with the award at the federated music club's event, which is a fundraiser for Barron High School's Marion Jerome Scholarships, named in honor of Mary Ella's mother.
Jerome, a 1974 graduate of the University of Wisconsin-River Falls who holds a B.S. in music education with a piano-vocal emphasis, was nominated for the WMEA award by UWRF music Professors Sarah Sjolie Parks and Lillian Tan. Both professors will attend the Barron event.
"The award is very special to me as I was president of the student chapter of WMEA while at UWRF and performed at its annual convention back then," said Jerome. "It was also my first experience with fundraising to establish scholarships. We held an 'April Fools' concert and raised $200 to establish a scholarship for a junior music major. It was the first scholarship that was earmarked for an upper-class student, as most went to new freshmen."
Not only is the Jerome name is synonymous with Jerome Foods, the founder of The Turkey Store, but it is also has a longstanding association with music in the region and beyond as well as with UWRF.
Jerome spent three years as a vocal music teacher in Blue Earth (Minn.) School District. She also taught music at UWRF, business management at Minnesota State University-Mankato, and was a corporate development consultant and board member of Jerome Foods, headquartered in Barron.
Having studied piano starting in elementary school, Jerome has been an organist for almost four decades at the First United Methodist Church in Barron, a member of its adult choir, children's music director, and adult choir director and accompanist. She is a member and past president of the Barron Federated Music Club and is Immediate Past President of the Wisconsin Federation of Music Clubs. She served in several capacities for the National Federation of Music Clubs.
Jerome has accompanied her aunt Lola Estenson Yde, who is a retired violinist from the Madison Symphony Orchestra, at federation concerts at the local, district, state, and national levels. Jerome also sang in the Rice Lake Federated Music Club Chorus Christmas Concert, directed by her aunt Lila Estenson Byng, who was active in the life of the Rice Lake, Wis., music community until her death in 1986.
Many of Jerome's family members are musicians or educators, including her brother Larry, of Barron, who has performed with major recording artists, his children, and several of Jerome's cousins. All her siblings studied the piano and enjoy singing.
Jerome is currently president of the Mary Ella Jerome Family Foundation. This year she established five annual scholarships at UWRF to honor her family members, some of whom had attended UWRF. One scholarship is intended for an agriculture student and honors her late father, Wallace H. Jerome, a state agricultural leader who founded Jerome Foods, recipient of the 1975 Distinguished Agriculturalist Award from UWRF, and a UW-Madison graduate.
Other scholarships honor women in her family who attended UWRF. A scholarship in memory of her late mother, Marion Estenson Jerome, who was a 1942 teacher education graduate of UWRF and former teacher in Clear Lake, goes to a student in the College of Education and Professional Development. One for her late aunt Lila goes to a music major who takes an emphasis in piano or organ. Another scholarship honors her aunt Lola and is awarded to a student of instrumental music. A scholarship established in Jerome's name goes to a music major with an emphasis in vocal or choral music.
Jerome's philanthropy also extends to other schools and universities around the region, including MSU-Mankato, UW-Eau Claire and the Blue Earth (Minn.) and the Barron school districts. She has been a member of the Wisconsin Music Educators Association and the Minnesota Music Educators Association.
She holds an M.B.A. from UW-Madison and attended the Conservatory of Music in The Hague, Netherlands.
The Wisconsin Music Educators Association exists to improve the quality of music education in Wisconsin by representing the shared interests and needs of music educators and fostering their professional growth, and each year it honors individual(s) who represent an outstanding commitment to music and music education.
-30-
Last updated: Thursday, 22-Apr-2010 16:07:58 Central Daylight Time