UW-RF Home > University Communications Home > This Month's News Releases
University Communications
For more information contact mark.a.kinders@uwrf.edu or brenda.k.bredahl@uwrf.edu.
Dairy Club Wins Top Awards and Honors at ADSA-SAD
By Kendra Knutson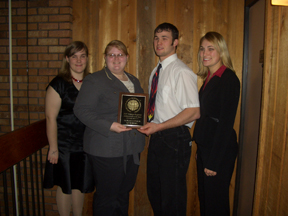 FEB. 9, 2007--Forty-three members of the University of Wisconsin-River Falls (UWRF) Dairy Club proved that they could compete with several larger schools when they attended the American Dairy Science Association-Student Affiliate Division (ADSA-SAD) Midwestern regional meeting, Feb. 2-3 on the campus of Kansas State University in Manhattan. They returned with a newly named president of the regional dairy association, a team of quiz bowl champions, second place for chapter yearbook, third place for chapter display, and a lot of great memories.
Nearly 400 students attended the event, representing 13 different collegiate institutions throughout the Midwest. Besides UWRF, participants included: Kansas State University, Ohio State University, Iowa State University, Michigan State University, UW-Platteville, UW-Madison, University of Minnesota-Twin Cities, University of Minnesota-Crookston, University of Illinois, Purdue University, South Dakota State University, and North Dakota State University.
A high point in the meeting was when Sam Kuhaupt, a junior from Slinger, Wis., was elected as Regional ADSA-SAD President for the upcoming year, replacing fellow UWRF student Adam Ward, a senior from Arpin, Wis.
"I have always had a great time at the ADSA conference and wanted to give back to the conference," said Kuhaupt, who was raised on a 40-cow dairy farm and is currently majoring in dairy science with a minor in agricultural business. Kuhaupt's responsibilities will include helping to plan, organize, and preside over next year's business meeting and convention that will be held at the University of Minnesota in the Twin Cities.
Members of the UWRF academic quiz bowl team took first at the junior division event. Team members included: L to R: Amber Elliot, a sophomore from Marshall, Wis.; Kristin Klossner, a sophomore from New Glarus, Wis; Scott Balzer, a junior from Owatonna, Minn.; and Brianna Pfluger, a sophomore from Green Bay, Wis.
The team had to answer questions focused on several aspects of the dairy industry including nutrition, hormones, dairy breeds, diseases, judging, feeding, and many more. Pfluger said she helped prove that members on the quiz bowl team do not always have to possess a farm background to do well.
"I was somewhat skeptical because I was not raised on a farm, and didn't think I had enough dairy knowledge to make a difference on the team," said Pfluger. "As it turned out I did know many of the answers and was able to be an asset to my team."
However, other team members did have some previous experience. Klossner, who was also recently named a 2007 Wisconsin Holstein Association Princess Attendant, has been competing in dairy bowl through the Wisconsin JR Holstein Association and 4-H for the past seven years.
The ADSA-SAD conference also proved to be an educational experience. Students attended four seminars of their choice out of eight offered.
Pfluger said her favorite involved a dairy farmer who talked about his operation that included bottling their own hormone-free milk in glass bottles and earning a profit through unique flavors of milk such as root beer.
"I was skeptical about the idea but after sampling some I thought it was great," said Pfluger. "It tasted just like a root beer float!"
-30-
Last updated: Thursday, 22-Apr-2010 16:07:58 Central Daylight Time