UW-RF Home > University Communications Home > This Month's News Releases
University Communications
For more information contact mark.a.kinders@uwrf.edu or brenda.k.bredahl@uwrf.edu.
Distinguished Alumni Honored at UWRF
By Lisa Stratton
FEB. 5, 2007--The University of Wisconsin - River Falls is hosting its fifth annual Distinguished Alumni Day on Feb. 16. The event will honor two distinguished alumni at 10:15 a.m. in the Kinnickinnic River Theatre of the University Center with a keynote speaker by an alumnus and Kroger Co. executive who received the award.
One of this year's two 2006 distinguished alumni, William T. Boehm, Ph.D., will share his valuable li
fe experiences in his presentation, "In Retrospect... Ten Life Lessons."
Boehm, a 1969 graduate of UWRF, is currently the senior vice president and president of manufacturing for Kroger Co. in Cincinnati, Ohio. Boehm has also been an assistant professor at Virginia Tech, and a senior economist with the U.S. Department of Agriculture and the President's Council of Economic Advisors.
"We began Distinguished Alumni Day five years ago honoring Wong How Man, a distinguished international explorer," says Dan McGinty, director of development and alumni relations. "We wanted to bring our alumni back to campus to showcase their expertise and talents and to share their real life stories with our students."
The day's events will also honor the late Dr. Donald Babbitt, posthumously recognized as a 2006 Distinguished Alumnus.
A 1942 graduate of UWRF, Babbitt significantly advanced the field of pediatric radiology and was the world's leading expert and one of the discoverers of pancreaticobiliary maljunction, a disease of the pancreas.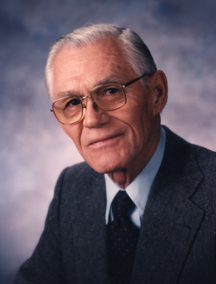 His wife, Katherine Babbitt, will attend a morning anatomy class to speak with students on Distinguished Alumni Day.
This event is free and open to the public. For more information, please contact the Office of University Advancement at 715-425-3504 or toll-free at 877-258-6647.
-30-
Last updated: Thursday, 22-Apr-2010 16:07:58 Central Daylight Time