UW-RF Home > University Communications Home > This Month's News Releases
University Communications
For more information contact mark.a.kinders@uwrf.edu or brenda.k.bredahl@uwrf.edu.
UWRF Dance Theatre Dons Kimonos During J-Term Trip
By Lisa Stratton
Feb. 5, 2007--While most Midwesterners are dreaming of above-freezing temperatures, a few students from the University of Wisconsin-River Falls enjoyed sublime weather, sushi, and the company of the cinematographer from "Spiderman" during a trip to Japan in January.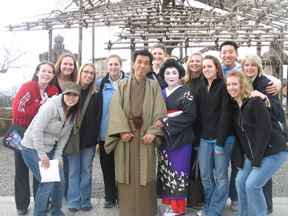 Members of the UWRF Dance Theatre embarked in a cultural immersion experience along with UWRF Professor and Dance Theatre advisor Karla Zhe and faculty members Mari Kline and Torrion Amie. The students spent a week and a half traveling throughout the country and learning traditional Japanese dance.
International student and Dance Theatre member Natsumi Kubo served as interpreter and tour guide for the group. Kubo and her parents helped set the itinerary and make contacts in Japan. The group traveled to Nagasaki, Kagoshima, Kyoto, and Osaka.
"The Japan trip was amazing," says Penny Reinhold, a junior from Knapp, Wis. "I learned so much in such a short time-not just about classical Japanese dance but about traveling, culture, and the country."
While in Kagoshima, students were able attend a class in Satsuma-yaki pottery, with their presence taken note of by the local media, including the Minami-Nihon newspaper. Students also participated in a traditional Japanese tea ceremony and were instructed in the art of Ikebana flower arranging.
During the trip, the group attended a traditional seven-course Kyoto style dinner with Syuzo Nakanishi, of R.imedia and best known as the cinematographer for movie blockbuster "Spiderman."
In Osaka, the members of Dance Theatre studied at the Senju School of Classical Dance. They attended classes in traditional classical Japanese dance and performed with students of the school at the end of their stay.
With only one interpreter for the whole group, taking dance instruction could have been difficult, but senior Kurt Blomberg, of St. Paul, Minn., says they communicated in unconventional ways.
"It was hard at first because we didn't speak Japanese, but there is no language barrier in dance," says Blomberg. "Dance is a universal language."
Japanese dancers learned new skills as well. Dance Theatre members brought knowledge from UWRF, demonstrating dances performed at last year's concert.
"We performed hip-hop, modern and Hawaiian dances, and taught them some of the movements," says Blomberg. "People in Japan were very generous and accepting. They have such an enthusiasm and passion for dance."
Einojo Senju, director of the school, will travel to River Falls to perform in Dance Theatre's annual spring concert, which takes place at 8 p.m. April 25-28 in the Davies Theatre of the Kleinpell Fine Arts Building at UWRF.
"The purpose of this experience was to increase the students' knowledge of diverse dance forms and gain knowledge of traditional Japanese culture," said Zhe. "Ultimately, it will help students appreciate diverse cultures and better understand cultural differences and similarities in relationship to their own cultural traditions."
Members of Dance Theatre who participated in the trip included:
Wisconsin
Penny Reinhold Knapp, Wis.
Rana Kuebker Hammond, Wis.
Brooke Gusa Ellsworth, Wis.
Minnesota
Kurt Blomberg St. Paul, Minn.
Brittany Warren Crystal, Minn.
Allison Davitt St. Paul, Minn.
Erin Storch St. Paul, Minn.
Stephanie Partlow Maplewood, Minn.
Kristin Moncrief Woodbury, Minn.
Photo, above: The UWRF Dance Theatre group at Kiyomiso Temple, a site to be selected as one of the "new" seven wonders of the world, in Kyoto, Japan. Front row, l to r: Natsume Kubo, Kristen Moncreif, Brittany Warren, temple guide, temple geisha, Stephanie Partlow, Rana Kuebkar, Karla Zhe. Back row, l to r: Mari Kline, Brooke Gusa, Alison Davitt, Kurt Blomberg.
-30-
Last updated: Thursday, 22-Apr-2010 16:07:57 Central Daylight Time