UW-RF Home > University Communications Home > This Month's News Releases
University Communications
For more information contact mark.a.kinders@uwrf.edu or brenda.k.bredahl@uwrf.edu.
Summer Internship Gives Wings to RF Student
By Brian Hogenson
UWRF University Communications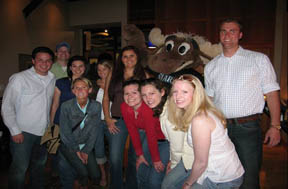 Jan. 29, 2007--Summer for many college students might include a full-time job and time to recharge their batteries after a year of hard work in the classroom. For one University of Wisconsin-River Falls student, summer was a time to experience the ins-and-outs of the world's leading aircraft manufacturer and a chance to ponder the wings on which to forge her future career.
Maggie Huppert, a senior business administration major from River Falls, interned this past summer in Seattle, Wash., with Boeing's customer relations department. As part of her position with customer relations she helped to plan and coordinate events ranging from marketing events and aircraft shows to a local golf tournament.
Huppert said enjoyed her internship in customer relations, but while there realized that it wouldn't be a field in which she would want to spend her whole career.
"I really enjoyed it, but I couldn't live that lifestyle," Huppert said. "They're constantly gone and working such rough hours."
Among the events she had a hand in coordinating was the Greater Seattle Golf Classic, a tournament including participants ranging from regional business leaders to National Football League players from the Seattle Seahawks, as well as the Farnborough Air Show. Huppert's department coordinated where participants would stay as well as the events they would attend.
As part of her duties planning the marketing events, Huppert worked with the Boeing gift store to come up with appropriate gifts for buyers. This task required understanding various cultures from other parts of the world and what gifts they consider appropriate. Gifts were valued from $1 promotional items all the way up to $1 million sculptures.
Huppert said there were a lot of perks involved in her internship at Boeing, including working with the head salespeople from each region of the world, spending some time on the Boeing yacht, and catching a Seattle Mariners baseball game from the Boeing suite at Safeco Field. For other events, Huppert arranged the use of the Boeing suite at Safeco Field, as well as the catering for the various guests in the suite.
Huppert was also responsible for intern events such as luncheons, presentations, tours, and transportation. She also coordinated an etiquette conference for the interns, and attended three-hour weekly classes with the other interns.
Huppert said she had an opportunity to stay on with Boeing full time right after graduation but chose not to, citing the difficulty of being that far away from family and friends. She said she would, however, consider Boeing as a possible future option down the road.
"I had such a good experience, so I would look at it again," Huppert said. "Boeing's offices in Chicago would work better as they are closer to home, but Chicago doesn't have many entry-level positions."
The experience was worthwhile she said, and she would recommend Boeing to someone looking for an internship, provided they are willing to move away for the summer.
"It opened my eyes to a real-life business experience," Huppert said. "A lot of it blew me away, with how big it is and just how much goes on with the No. 1 global aircraft manufacturer."
-30-
Photo, above: Maggie Huppert (front, row, far left) before a Seattle Mariners game with other Boeing interns.
Last updated: Thursday, 22-Apr-2010 16:07:56 Central Daylight Time