UW-RF Home > University Communications Home > This Month's News Releases
University Communications
For more information contact mark.a.kinders@uwrf.edu or brenda.k.bredahl@uwrf.edu.
[Photos] [Video: Ribbon Cutting Ceremony (Windows Media Player)]
Grand Opening Week Events Celebrate New University Center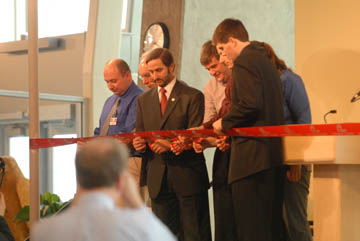 JAN. 29, 2007--Events in celebration of the opening of the new University Center at the University of Wisconsin-River Falls Jan 22-28 reflected the role the new 'green' building will play on campus, in the region and beyond.
Administrators, staff and students ceremoniously cut a ribbon Jan. 23 while "Trumpet Fanfare," a composition by music Professor J. Michael Roy, was performed by the UWRF Live Trumpet Society directed by music Professor Thomas Barnett.
Student speakers included Shaun Priesgen, a senior geography major from Fond du Lac and chair of the University Center committee; Natalie Hagberg, a junior majoring in broad field social studies from Eagan, Minn., and chair of the UWRF leadership and programming board; Matthew Moyer, a senior environmental science major from Osseo and chair of the Earth Consciousness Organization; and Joseph Eggers, a junior political science major from Appleton and president of the UWRF Student Senate.
"As I was able to watch the construction of the building progress, and as I learned more and more about the ... University Center, I realized that my imagined vision was nothing compared to what was emerging from the wood and wires," said Hagberg. "I knew this building was going to open many doors for our campus."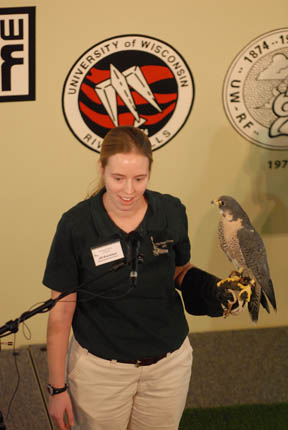 Jill Druckman, a representative from the University of Minnesota Raptor Center, closed the ribbon-cutting festivities with a presentation on the Peregrine falcon, for which the UWRF athletic teams are nicknamed. She brought along a female falcon.
In the evening the nationally renowned group Recycled Percussion performed to a packed house in the Falcon's Nest Entertainment Complex.
Later in the week, activities included the dedication of several art works installed in the new building, including Paul Granlund's "The Singers" in honor of the late Chancellor Ann Lydecker; an international dance performance by international students, a community open house, and other activities.
-30-
Photo Cutlines: Top, right, L to R: Mike Stifter, director of student life facilities, Provost Charlie Hurt, Chancellor Don Betz, Student Senate President Joe Eggers, Natalie Hagberg (hidden), chair of the leadership development and programming board, Gregg Heinselman (hidden), associate vice chancellor of student affairs, Matthew Meyer, president of Earth Consciousness Organization.
Left, Jill Druckman of the University of Minnesota Raptor Center.
Below, L to R: Bill Lydecker, husband of late Chancellor Ann Lydecker, Chancellor Don Betz, and Mitchell Favor, grandson of the Lydecker's with the Paul Granlund sculpture.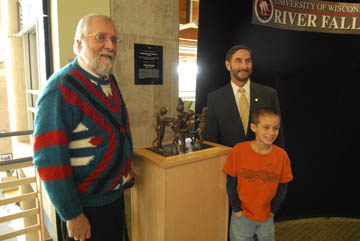 Last updated: Thursday, 22-Apr-2010 16:07:55 Central Daylight Time