UW-RF Home > University Communications Home > This Month's News Releases
University Communications
For more information contact mark.a.kinders@uwrf.edu or brenda.k.bredahl@uwrf.edu.
Prof's Book is Forthcoming from Johns Hopkins U Press
DEC. 22, 2006--University of Wisconsin-River Falls history assistant Professor Roark Atkinson currently has a book manuscript under contract with the prominent Johns Hopkins University Press.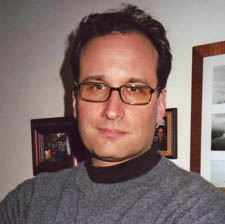 Atkinson's manuscript, "Invisible Plantations: Religious Violence, Occult Healing, and Witchcraft in the Scottish Atlantic World, 1590-1820," examines the interconnectedness of the popular healing practices, religious beliefs, and popular justice that flourished in the 18 th century Atlantic world and demonstrates how they shaped the American South.
The book is a part of the "Early America: History, Context, Culture" series and is due to be published shortly after the revised manuscript due date of August 2008.
"My research challenges current scholarship on the origins of Southern lynching and the emergence of Protestant evangelical Christianity by linking them to the occult beliefs of British immigrants who settled the frontier," Atkinson explains. "These popular customs reveal how ordinary people used religious understandings of the 'invisible world' to combat disease, affliction, and witchcraft."
The Johns Hopkins University Press is among the nation's oldest and the world's largest university presses.
"Faculty reputation directly impacts institutional reputation," said Chancellor Don Betz on Atkinson's achievement. "This publication is wonderful for Roark and shines national light on his department, the College of Arts and Sciences, and UW-River Falls. Roark's work has been accepted by Johns Hopkins editors, who have access to some of the best manuscripts available. UW-River Falls will be judged by some to be a strong institution in his field due to this publication. We all benefit from his success as we have from other faculty members' accomplishments."
-30-
Last updated: Thursday, 22-Apr-2010 16:07:53 Central Daylight Time