UW-RF Home > University Communications Home > This Month's News Releases
University Communications
For more information contact mark.a.kinders@uwrf.edu or brenda.k.bredahl@uwrf.edu.
UW Students Participate in Great Scottish Santa Run
Dec. 22, 2006--Some 30 University of Wisconsin students participated in the famous Great Scottish Santa Run while studying abroad at the Wisconsin in Scotland program at Dalkeith House in Edinburgh.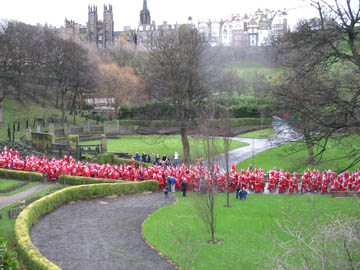 The Santa Run was the largest gathering of Father Christmases in the United Kingdom, with a total of 2,257 Santas running the 1.5 km race, according to Gloria Fennell, resident director at the Wisconsin in Scotland program who is a faculty member at UW-Eau Claire.
The Wisconsin in Scotland Program is operated by the West Central Wisconsin Consortium, an organization composed of five Wisconsin universities (UW-Eau Claire, UW-La Crosse, UW-River Falls, UW-Stout, and UW-Superior). Up to 80 students from those campuses and three to five faculty members go to Dalkeith House each term to live and study.
The event was held to raise funds for the children's charity, When You WIish Upon a Star, for children with serious or life-threatening conditions. Each UW student participated approximately $20 to the Scottish charity.
Pictured, left to right: First row: Bethany Jackan, UW-Superior; Kyle Sirek, UW-La Crosse; Michelle Weber, UW-La Crosse; Lucas Ritt, UW-La Crosse; Tim Barnett, a senior biotechnology major at UW-River Falls from Anoka, Minn.; Brian Allen, a UWRF senior marketing communication major from River Falls. Second row: Katrina Pettibone, UW-Superior; Jessie Lidbury, UW-Eau Claire; Bill Fennell of Eau Claire; Rachel Rydel, UW-La Crosse; Miranda Biteler, a UWRF senior health and human performance major from Chanhassen, Minn.; Kristin Heeson, UW-Stout; Erin Gulbransen, UW-La Crosse; May Lee, a UWRF junior sociology major from Maplewood, Minn.; Kelly Sprague, UW-Eau Claire. Third row: Allison Hirsch, UW-Stout; Laura Otto, UW-La Crosse; Christine Hoppe, UW-La Crosse; Dana Leair, UW-Stout; Maria Scarpaci, UW-La Crosse. Fourth row: Bridget Wolfe, UW-Eau Claire; Chris Newgard, UW-Eau Claire; Bryan Jelen, UW-Eau Claire; Shawn Mjelde, UW-Superior; Jon Barnett, a UWRF senior business administration major from Austin, Minn.; Andrew Avery-Johnson, UW-La Crosse; Kyle Dougherty, UW-La Crosse; Abbey Vaassen, UW-La Crosse; Ben Simonsen, a UWRF senior majoring in accounting from Lakeville, Tim Dohmen, associate resident director, from UWRF. Photo by Gloria Fennell, WIS resident director, from UW-Eau Claire.
-30-
Last updated: Thursday, 22-Apr-2010 16:07:53 Central Daylight Time